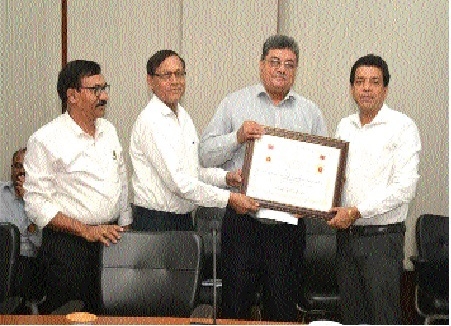 THE Bhilai Steel Plant (BSP) has recently won Order of Merit SKOCH award for its nomination on 30 MLD Sewage Treatment Plant (STP) during SKOCH Summit at the India Habitat Centre in New Delhi. On Monday, the prestigious 'SKOCH award' handed over to B P Singh, Executive Director (Works), BSP by A K Mandal, Chief General Manager (Utility), General Manager I/c (Water Management and Environment Department) C K Narayanan and General Manager (Water Management Department) Sanjeev Bhardwaj.
SKOCH Award, instituted in 2003, is the prestigious award in the country conferred by an independent organisation. It recognizes people, projects and institutions that go the extra mile to make India a better nation. SKOCH Award covers the best of efforts in the area of digital, financial and social inclusion. It encompasses the best of governance and best practices in industries.
SKOCH Award comes with a backing of reputation of more than two decades. It is distinctive for its approach of selection of awardees, which is based on nomination, jury evaluation, and presentation of shortlisted nominees, focus group discussions, interactions and peer evaluation.
The SKOCH Award not only acknowledges exceptional achievers- organizations and individuals but also spurs institutional guidance and best practices in the industry. Sanjiv Bhardwaj, GM, Water Mgmt Department, filed this nomination under able guidance of A K Mondal, CGM, Utilities, C K Narayanan, GM I/c WMD and Environment department of BSP. The nomination was selected after stringent and rigorous preliminary qualification process and joined the elite list of the top 15 per cent projects in India. The award was presented in front of nearly 300 delegates from across the country including union ministers, secretaries to the government, economists, domain experts, multilateral institutions as well as media. It was in presence of such an august gathering that BSP's achievement was recognized. Bhilai Steel Plant has a well laid-out township with more than 35000 dwelling units and public buildings etc. which are served by an elaborate network of sewage conveyance and treatment system. Sewage Treatment Plant (STP) of capacity to treat 30 Million litres of sewage per day (MLD) is serving Bhilai township area. The 30 MLD STP implemented in BSP Township is first of its kind in Chhattisgarh and in SAIL. This is a step towards achieving the concept of Zero Discharge as per our corporate policy as well as mandatory requirement of Pollution Control Authorities. The STP has helped in meeting the additional industrial water requirement of its expansion units. Average annual savings of water every year is 10.95 million cum and it saved crores of rupees. STP assisted us to comply with the stringent pollution control measures and to taper discharge of waste water in natural water.