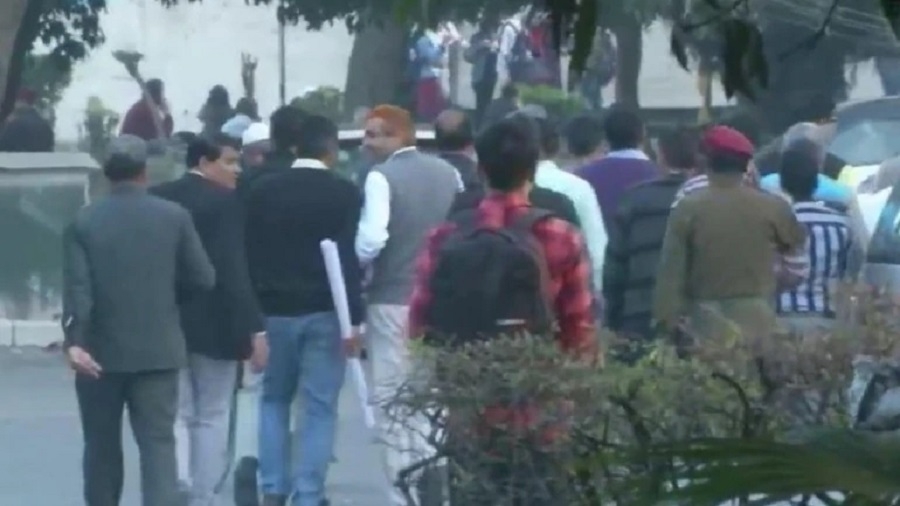 NEW DELHI :
A DELHI Police Crime Branch team visited the Jamia Millia Islamia campus on Tuesday as a series of videos of the December 15 violence inside the university emerged over the past few days. Four videos have surfaced online of the incident, the latest being on Monday. The team led by Deputy Commissioner of Police (Crime) Rajesh Deo visited the varsity's library that was badly damaged during the alleged police action inside the campus last year, according to officials.
This is for the first time that a police team is visiting the campus for investigation after the violence, they said. Members of the team analysed and videographed the extent of damage to the library. They also visited the proctor's office, officials said.The case is being probed by Crime Branch. Jamia almuni association files police complaint against cops who entered varsity library :The Jamia Millia Islamia Alumni Association on Tuesday filed a police complaint against policemen who barged inside the university's library on December 15 last year, demanding that they be charged for offences like attempt to murder and insulting religion. In its complaint filed with the Deputy Commissioner of police (Southeast) and the SHO of Jamia Nagar police station, the association alleged that the policemen rained batons on students inside the library and used religious slurs.
"In order to hide and destroy evidences of their barbarity and unlawful conduct, the officials/personnel of the police force deliberately tried to destroy the CCTV cameras installed in the campus premises, including the ones installed in the Old Library," the complaint said. It also stated that the "personnel of the police force vandalised the premises of the Old Reading Hall of the library and broke the gate which was locked from inside by the students and started abusing the students...And lathicharging them from head to toe". According to the complaint, the students who were present inside the library ran to other floors of the building and tried to lock rooms (MPhil and PhD sections) by putting benches and chairs at the entrance "in order to protect themselves from indiscriminate and unlawful brutality and violence unleashed by the personnel of Delhi Police".