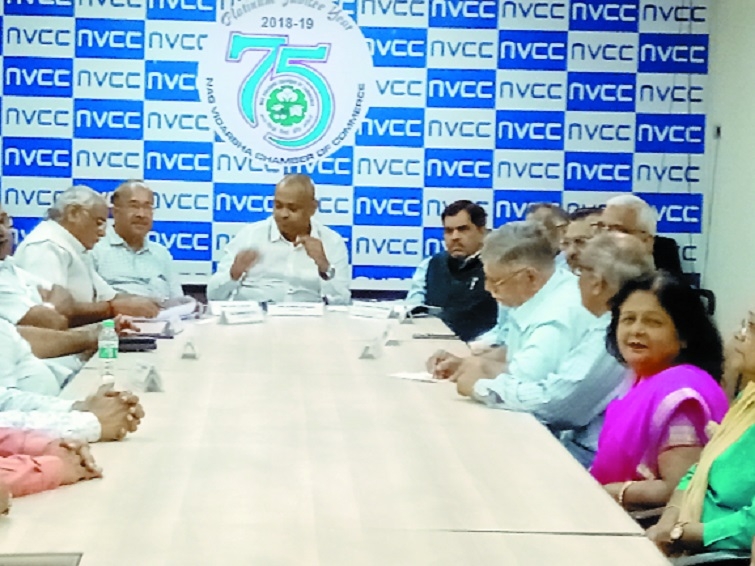 Business Bureau :
THE Government in its Union Budget had taken proper measures which will encourage fisheries, gardening and other non-agricultural sector to increase rural employment, said Dr Ashwini Mahajan, Professor at Delhi University and All India Joint Convenor of Swadeshi Jagran Manch. Dr Mahajan was speaking as a keynote speaker on the topic 'Present Economic Scenario' organised by Nag Vidarbha Chamber of Commerce (NVCC) recenlty.
Also present on the occasion were Ajay Patki, National Convenor of Swadeshi Jagran Manch, Ashwin Mehadia, President of NVCC, B C Bhartia, National President of CAIT, Gopal Agrawal, Chairman of Team CAIT Nagpur, Kishore Dharashivkar, President of Team CAIT, Nagpur, Arjundas Ahuja, Vice-President of NVCC, Sachin Punyani, Treasurer of NVCC, Swapnil Ahirkar, Joint Secretary of NVCC and others. Dr Mahajan said that the previous Government's policy of free trade, Import Duty was reduce on foreign goods and flood of foreign goods was noticed in the country.
"In last 20 years, our trade loss due to foreign goods had increased to 30 per cent," Dr Mahajan said. He also added that due to such policy small trade started decline and even the manufacturing also decreased. "In order to stop the inflow of foreign goods, the present Government has increased Import Duty, Anti-Dumping Duty which combinedly has improved electronic, chemical and other products. It is a welcome move by the Government," he said. At the same time, he opposed the Government move in bringing FDI in educational sector.
"FDI in education will bring down the education standards," he pointed out. B C Bhartia said that the aim of Swadeshi Jagran Manch was to promote indigenous trade and protect the Indian tradition. "The more we use Indian goods, we will have more economic development and trade and industry will also flourish," he said. Ashwin Mehadia in his opening remarks said that NVCC is always giving priority to safeguard the interest of traders. "When we felt Government policies were against the interest of the traders, we have opposed it tooth and nail.
Increase in Import Duty in the Union Budget is a welcome move," Mehadia said. Also present on the occasion were advocate Sanjay Agrawal, Vice-President, Ramavtar Totla, Secretary, Raju Makhija, PRO, Narayan Toshniwal, Rajesh Aohari, Shankar Sughandh, advocate Nikhil Agrawal, Rajesh Lakhotiya, Sandesh Kanoje, Sanjay Nabira of NVCC. Sirish Tare, Pravin Mase, Dhananjay Bhende, Rajiv Kshirsagar, Anita Patki of Swadeshi Jagran Manch. Swarnima Sinha, Jyoti Awasti, Archana Rastogi from team CAIT and other members in large numbers.