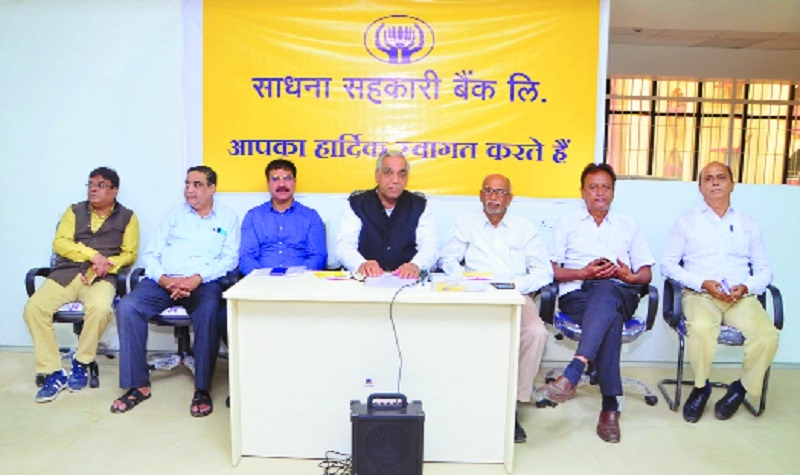 Business Bureau :
Sarkaryawah of RSS Bhaiyaji Joshi will inagurate the new premises of Sadhana Co-operative Bank Ltd., located at Jaripatka on February 21 at 4.30 pm. Union Minister Nitin Gadkari will be the chief guest on the occasion while Maharashtra Energy Minister Nitin Raut as well as Opposition Leader and former Chief Minister Devendra Fadnavis will be the special guests. Apart from this, Sarita Gangadharrao Fadnavis and Chairman of Nagpur Municipal Health Committee Virender Kukreja will also attend the event. Ghanashyam Kukreja, Chirman of the bank announced this here on Thursday at a press conference. The bank has built a huge building on an area of about 22,000 square feet.
The premises include the bank's branch office, head office and the auditorium. About 36 years ago Karmayogi late Arjundas Kukreja, with the help of Late Gangadharrao Fadnavis Jaiprakash Ahuja, Dr Ramprakash Ahuja, Late Kishanchand Motwani, Adv Suryakant Dongare, late Asudaram Khubchandani, late Diwakarrao Dakhras, late Ishwarchand Verma, late Manoharrao Samarth, Mohanlalji Bhojwani, Satywanji Bhojwani, Kanhiyalaji Khubchandani, Adv. Hariram Kevalramani, late Gopal Gwalani, late Sevakram Valeja, Prabhakarrao Mundale, Kishore Devani laid the foundation of the bank.
The bank has been operating continuously for the last 36 years. Today, it is providing services through its 5 branches. The total business of the bank is up to Rs 200 crore. Deposits of Rs 150 crore are with the bank and about 65 per cent of the advance loan is allocated by the bank. The NPA of the bank is only 1.5 per cent. The bank is making profit every year. Also, every year the bank has paid dividends to its shareholders. Due to the transparent operating system and good financial condition of the bank, the bank has been certified as 'A' grade by DDR.