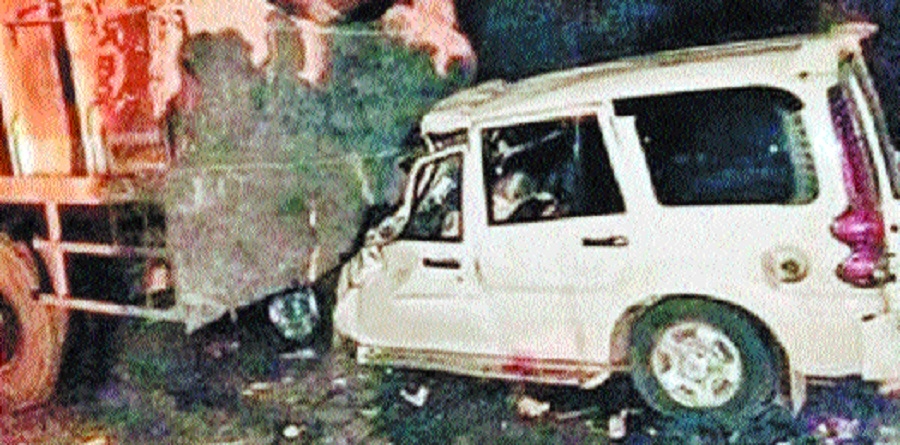 Chandrapur Bureau :
CHANDRAPUR, SIX people including a two-year-old boy were killed and seven others injured when an SUV vehicle rammed into a stationary truck at Kesalghat village located on Chandrapur-Mul road on Wednesday night. The deceased included three women. According to information given by PI S R Rajput, Bhoyar family of Babupeth area of Chandrapur had gone to Pratapgad in Gondia district on Wednesday morning. The family along other devotees were returning home in the night when driver Jitendra Parpelliwar failed to notice a parked truck near Kesalghat and ended up hitting it.
The impact was so severe that six persons including a two-year-old boy died on the spot while seven others, including the driver, sustained injuries. As soon as the news of the incident spread, villagers from nearby areas rushed to the spot and rescued the victims. Within a short time cops from Mul Police Station also arrived at the scene. The injured were shifted to Sub District Hospital in Mul and later referred to Government Medical College & Hospital, Chandrapur.
The deceased have been identified as Vimal Wandre, Karthik Bhoyar, his wife Kusum, Dattu Jhode, his wife Manisha and Sitaram Bhoyar (2). The injured are driver Jitendra Maroti Parpelliwar, Rekha Kardilkar, Sheela Patil, Krish Patil, Ankita Petkule and Soni Patil, informed PI S R Rajput.