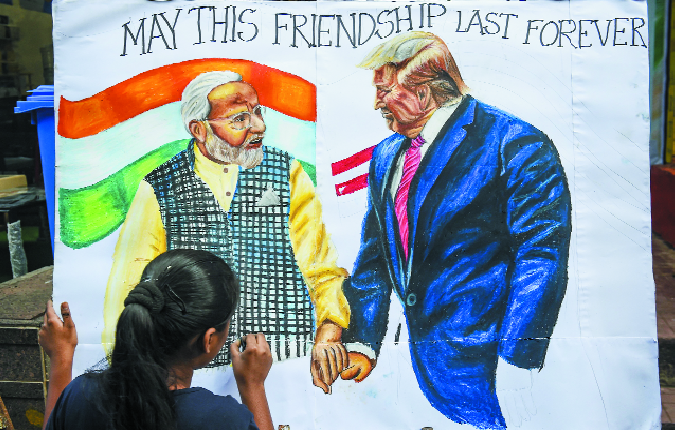 AT A time when drones are being used by Pakistan-based terror groups against India, the Defence Research and Development Organisation (DRDO) has developed an indigenous anti-drone system which has successfully destroyed UAVs during trials. The system is also being deployed for security of the US President Donald Trump during his forthcoming visit to India.
Almost all security agencies including the Air Force, Army, paramilitary forces and those involved in VVIP security are looking at acquiring anti-drone systems after the terror groups and others started using them. Over the recent past there have been instances of smuggling of small arms and narcotics using drones which can carry 3-4 kilograms of weight and can fly at very low heights. "The DRDO system successfully neutralised an incoming drone during trials using its kill system. The counter drone system has capabilities to both detect and destroy drones in air," Government sources told ANI.
The DRDO counter drone system was first deployed to provide security cover to the Republic Day Parade this year which was attended by Brazilian President Jair Bolsonaro and Prime Minister Narendra Modi, along with other dignitaries.
The system is being deployed in Ahmedabad for the Modi-Trump roadshow where they would be tasked to thwart any aerial threat from drones, the Gujarat Police had stated on Thursday. A number of instances of drones being used for smuggling weapons have been taking place along the riverine borders with Pakistan in Punjab and Jammu where small drones fly at very low height and drop supplies, sources said.
'Namaste Trump' won't mark inauguration of Motera stadium
THE Gujarat Cricket Association (GCA) on Friday clarified the 'Namaste Trump' event is being organised at the newly-built cricket stadium here on February 24 only for hosting US President Donald Trump and it will not mark the inauguration of the complex.
The cricket stadium at Motera is the world's largest with a capacity to accommodate 1.10 lakh spectators. Even since Trump's visit to the city was announced around two weeks back, local police as well as authorities had been claiming the mega gathering of over 1 lakh people in the stadium would also mark the inauguration of the stadium.
"This event's name is Namaste Trump. It is meant for hosting US President Donald Trump. We will inaugurate the stadium later," said GCA Vice-President Dhanraj Nathwani during an interaction with the media at the stadium.
The Motera stadium, owned by the GCA, has been completely rebuilt after demolishing the old one, which was constructed in 1982 with a seating capacity of 49,000 spectators.
14-year-old Gujarat boy creates sketch of Modi, Trump
A 14-YEAR-OLD artist has made a sketch of Prime Minister Narendra Modi and US President Donald Trump as a gesture of welcome for the US President.
The sketch will be presented to Trump in Ahmedabad by the District Collector of Vadodara on the artist Mahir Patel's behalf.
"I have made a sketch of US President Donald Trump and Prime Minister Narendra Modi. I have depicted the chemistry and friendship between the two leaders in the sketch. I want to welcome the US President in a different way and gift the sketch to him," Mahir told ANI.
Mahir is in the eighth standard and has been an artist since he was five years old. He has not taken any training for his art and has learnt to sketch by watching videos on Youtube. He has made sketches of many popular personalities till date like those of Mother Teresa and Robert Downey amongst others.
The sketch of Trump and Modi took him 30 hours to complete.
Modi has population advantage on Facebook, says Trump
US President Donald Trump, who is tangling with India trade, now thinks Prime Minister Narendra Modi has an unfair advantage over him on Facebook because of his country's huge population.
Although he has complained that India has had an unfair advantage over the US in trade, this time in Las Vegas on Thursday he was only joking ahead of his visit to the country and meeting with Modi. Declaring himself the world's number 1 on Facebook, Trump said that Modi was the second in the number of followers. After he had heard about his and Modi's ranks from Facebook CEO Mark Zuckerberg, he said he telephoned the Prime Minister.
"I congratulated Prime Minister Modi. I said, 'But, you know, you have 1.5 billion people. I have 350 million. You have an advantage'," Trump said.
Trump, who lays great store by numbers and ranking, expressed admiration for the Indian leader: "Prime Minister Modi is number two on Facebook. Number two. Think of that."
In the jocular vein, he took a potshot at the media and the Democrats, who are usually quick to accuse him faking news.
As his audience roared with laughter, he said of his top position on Facebook and Twitter: "It's true. And if I wasn't, I could never say it because it would be breaking news that - that Trump told a fib. No, number one."
MeT official rules out rains over Gujarat for next 5 days:
THE Meteorological Department here has said that there is no chance of rainfall in the State during the next five days.
"There is no chance of rainfall during the next five days over Gujarat. No fishermen warnings. The minimum temperature in the coming days will drop. On February 24, the minimum temperature may touch 17 degrees Celsius. The maximum temperature will rise to 36 degrees Celsius," MeT director Jayanta Sarkar told ANI. "The wind speed to be normal. It will be around 10-15 knots," he added. Security has been tightened across Ahmedabad ahead of Trump's visit.