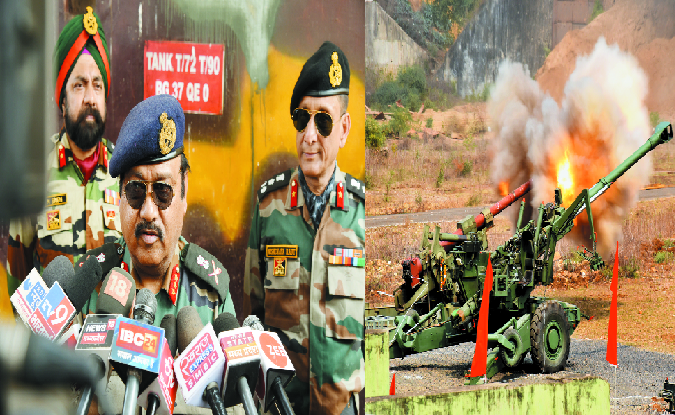 LONG Proof Range (LPR) Khamaria, an establishment under Director General Quality Assurance (DGQA) Ministry of Defence successfully establishes its capability to test-fire at its ranges 155 mm calibre guns, the mainstay of Indian Army, namely Dhanush and Sharang Weapon System, developed by Ordnance Factory Board (OFB).
Successful proof firing of Dhanush and Sharang simultaneously is a culmination of a long drawn process over a period of one year, since its conceptulisation by LPF Khamaria in November 2018 and subsequent planning and execution by officers of DGQA at various levels.
Earlier, proof firing of Sharang System began on January 21 and since then a total eight Sharang guns have been successfully tested at LPR Khamaria. Simultaneously, proof firing of Dhanush and Sharang has been carried out for the first time to showcase capability of DGQA towards Defence preparedness of the country. On the occasion, Director General DGQA Lt General Sanjay Chouhan, congratulated Brigadier Nishchaya Raut and his team for exceptional achievement while briefing media at LPR Khamaria.
Lt General Sanjay Chouhan was all praises for LPR Khamaria, CQA (W) Jabalpur, WDET, ODC Kanpur, Gun Carriage Factory and Vehicle Factory Jabalpur for their concerted efforts in carrying out such a goal.
He further added that with this achievement, Jabalpur, will now become a prominent defence hub in the country to promote Make in India initiative of the Government of India. It will contribute immensely in saving annually an estimated Rs 100 crore in Defence Budget and also save time in delivering high calibre guns to the Armed Forces.