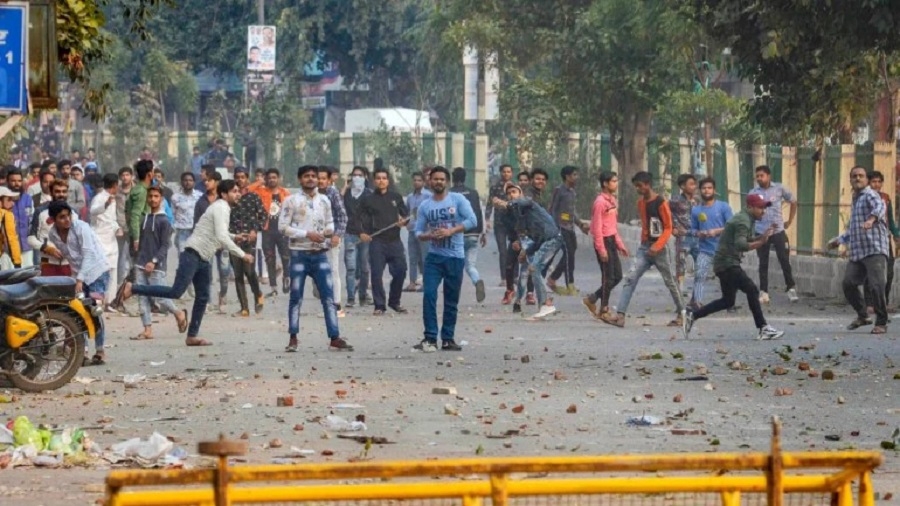 NEW DELHI :
SPORADIC incidents of stone pelting on Sunday between anti and pro-CAA groups at Maujpur in east Delhi broke a relative lull in tension over the contentious Citizenship Amendment Act. The police fired teargas shells amid reports of two people being injured. The tension erupted after a pro-CAA rally in the area was stoned by a group of anti-CAA protesters. Following stone pelting by both groups, the police stepped in to disperse the two groups.
Teargas shells were fired and two people have been reported injured following the outbreak of violence. Maujpur is near Jaffrabad, where anti-CAA protesters had barricaded the road since Saturday night in support of the bandh call given by Chandrasekhar Azad of Bhim Army against the CAA. FIVE INJURED IN ALIGARH CLASHES: Clashes broke out between police and violent, anti-CAA protesters in the old city area here on Sunday, in which at least five persons were injured, two of them critically, said officials. With protesters indulging in arson, vandalisation of property and stone-pelting at security personnel in Upper Kot area under Kotwali police station limit, the police fired teargas shells and rubber bullets to disperse the mob, said Aligarh District Magistrate Chandra Bhushan Singh.
Following the violence, the district administration also suspended Internet services in the city till midnight on Sunday as a precautionary measure, Singh added. Those injured in clashes included a 22-year-old onlooker, who was, according to his father, fired at and injured by a miscreant, whom, he said, he recognises. Four others in the mob suffered injuries from pellets and rubber bullets, two of them in their eyes, with one of them likely to lose his left eye, said doctors treating them. Deputy Inspector General of Police (Aligarh range) Preetinder Singh, meanwhile, told PTI that police have also detained some persons after the violence.
The protesters too have been evicted from their "dharna" site, he added. Aligarh DM Singh said the violence broke out at a spot on Mohamed Ali Road leading to the Kotwali police station where some women protesters were holding a dharna since Saturday with the police trying to evict protesters from there. The trouble began around 5 pm when the police tried to persuade women protesters at Upper Kot near Kotwali to evict them from the road, he said. "We told them that women protesters were already holding a dharna at Eidgah and they would not be permitted to hold another such protest near Kotwali," said Singh. The district magistrate said police used tear gas shells to disperse the mob.