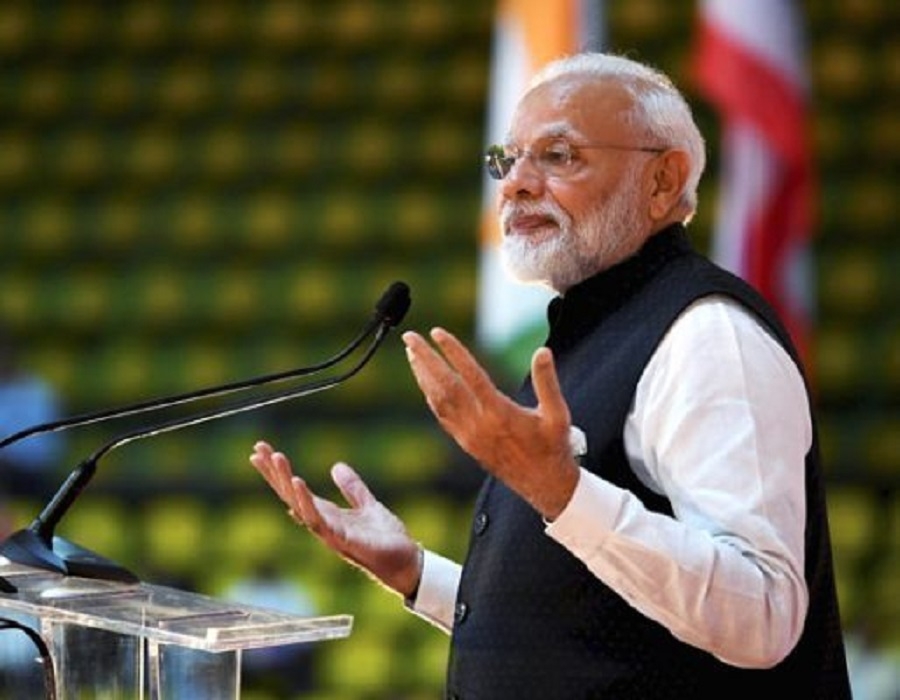 NEW DELHI :
PRIME Minister Narendra Modi on Sunday narrated stories of courage and strength to convey that 'age and disability' cannot be a hurdle in achieving goals. In his monthly Mann ki Baat radio address, he gave the example of a 105-year old woman who cleared 'level 4' examination in Kerala recently, a 12-year-old girl who scaled Mount Aconcagua in South America and a young man from Uttar Pradesh with physical disability who opened his own slipper manufacturing unit, to drive home his point. While narrating the story of 105-year-old Bhagirathi Amma, the Prime Minister said, "If we wish to progress in life, we should develop ourselves, if we wish to achieve something in life, the first pre-condition for that is the student within us must never die."
He said there are several examples to show how women today are breaking "age-old shackles and attaining new heights". Modi referred to Kamya Karthikeyan (12), who scaled Mount Aconcagua, the highest peak of the Andes Mountains in South America, which is about 7,000 metres high. Referring to her fitness level, the Prime Minister said, "A nation that is fit, will always be a nation that is a hit." He also urged people to pick up an adventurous activity and integrate one's life with adventure.
"Shouldn't there always be adventure in life?" he said. Modi also talked about Salman of Moradabad in Uttar Pradesh. Salman, a specially-abled person, set up a slipper manufacturing unit, overcoming odds. " ... While Salman himself found it difficult to walk, he decided to manufacture slippers which help others to walk easily," the Prime Minister said. Salman has also trained 30 persons with disabilities in manufacturing slippers and detergent. Modi said a similar determination has been manifested by residents of Ajrak village in Kutch, Gujarat. In 2001, after the devastating earthquake, most villagers were migrating from the village. However, one person Ismail Khatri decided to stay back and nurture his traditional art form of 'Ajrak print'.
'Preserve, conserve India's biodiversity'
NEW DELHI :
DESCRIBING the biodiversity of India as a "unique treasure" for the entire humankind, Prime Minister Narendra Modi on Sunday urged people to preserve and conserve it. Addressing his monthly 'Mann ki Baat' radio address, the Prime Minister referred to Tamil poetess Avvaiyar to drive home his point. "What we know is just a handful of sand. What we do not know is like a universe in itself," he said quoting her. Similar is the case with the biodiversity of this country, the Prime Minister pointed out.
"The more you know, the more you realise the magnitude of what you do not know. Our biodiversity too is a unique treasure for the entire human kind. We have to preserve it, conserve it and explore further," he said. The Prime Minister said the traditions and the legacy we have inherited teaches us compassion toward all living beings and boundless love for nature. To join the culture of hospitality, every year numerous species of birds from across the world come to India.
Throughout the year, India is home to many migratory species. "We are told that more than 500 varieties of birds fly in from varied regions," he pointed out. He informed that recently, biologists discovered a new species of fish whose habitat is within the caves of Meghalaya. It is believed that this fish is the largest among aquatic species found under the surface of caves. "It a matter of joy that India, and especially Meghalaya, is home to a rare species. It lends a new facet to India's biodiversity. We are surrounded by many such mysteries, which are still undiscovered. To discover such a phenomenal enigma calls for fierce detective passion," he said. In his address, the Prime Minister also referred to the 'Hunar Haat' organised by the Ministry of Minority Affairs at the Rajpath.