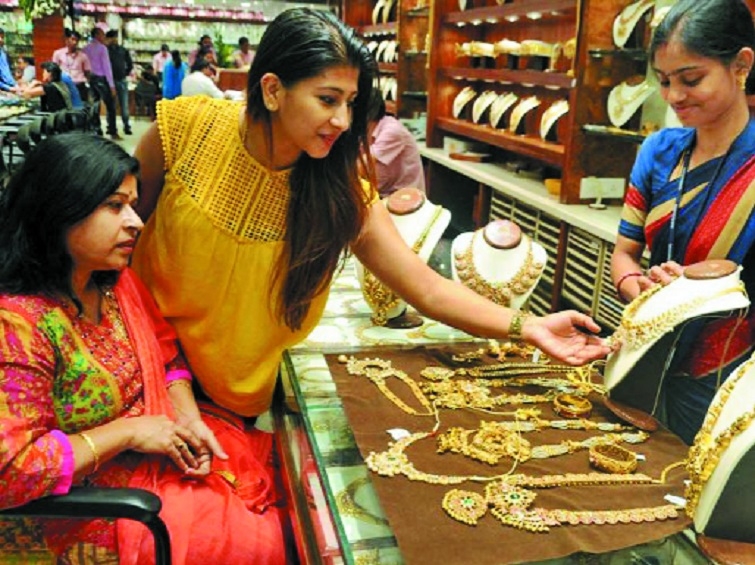 Business Bureau :
IT SEEMS that gold prices are defying the force of gravity and skyrocketing to new highs. On Monday, the gold prices rose by about Rs 900 to hit all time high of Rs 43,300 per 10 grams in the city. Similarly, silver was quoted at Rs 49,000 per kg. The main reason for the steep rise in prices is the insecurity felt by people due to the outbreak of coronavirus from China. This was revealed by Rajesh Khandelwal, Director of Khandelwal Jewellers, Dharampeth while speaking to The Hitavada on Monday. Khandelwar said that there are various other reasons also for the steep rise in gold prices.
Economic slowdown, disruption in supplies of vital components and spare parts from China to other countries can hurt manufacturing activities in those countries, devaluation of rupee against the US dollar, limited supply of gold from mining etc. The cost of recovering gold from mining activity has escalated to Rs 40,000 per 10 grams to Rs 42,000 per 10 grams. In this manner, the gold prices are adjusting to meet the cost of mining.
"A combination of these factors has resulted in rise of gold prices, he added. Further, he said that globally people are looking at gold as a safe asset to invest in due to which the demand for gold has gone up. Accordingly, the prices of gold are flying high and making new highs from the past few months. With no immediate solution to the coronavirus problem, it is expected that the gold prices would cross the Rs 45,000 per 10 grams mark with this week or by next month. Higher gold prices would hurt demand by 2 per cent to 5 per cent in the city. Most jewellers in the city are under wait and watch mode and studying the affects of high prices on consumer sentiments.
Kishore Sheth, Director of Batukbhai and Sons Jewellers, Dharampeth said that the rise in gold prices internationally is due to spread of the coronavirus to more than 27 countries. There is a feeling of world-wide insecurity among the investors and they are taking out money from the share market and investing in gold as a safe haven.
He feels that the affects of the coronavirus will be long term more than six months. With this, traders are anticipating that prices of gold may cross the Rs 50,000 per 10 gram mark over next six months. In the city, it is being witnessed that the percentage of customers selling gold has shot up. Many people are taking advantage of the situation and looking at it as a good opportunity to offload gold while the prices are high. Even with such high prices of gold there are people who are buying gold. Especially those people who are having marriage in their homes are buying but at much lower quantities, he added.