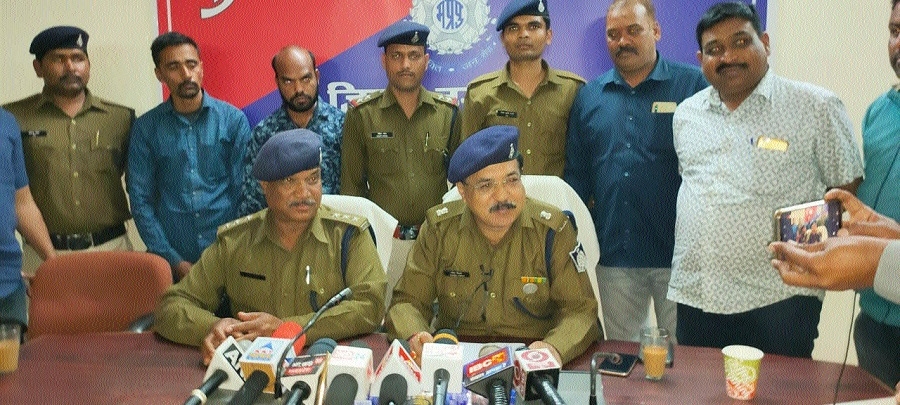 Staff Reporter :
In a major breakthrough, Kareli police nabbed two drug peddlers and seized 52-kilograms ganja amounting to Rs 6.24 lakhs from them. The arrested have been identified as Sadiq Ali, son of Sabir Ali, a resident of Imaliya in Kareli and Saurabh alias Pappu Lunawat, son of Laxmi Nand Lunawat, a resident of Jaiprakash Ward in Kareli. Additional Superintendent of Police Rajesh Tiwari informed that under the direction of Superintendent of Police Dr Gurkaran Singh, police have started a special campaign against illegal trade and transportation of narcotic substances.
During the campaign, police received information about a suspected man involved in drug peddling. Taking a serious note on the information, police team under the supervision of ASP Rajesh Tiwari and SDOP, Narsinghpur Arjun Uike started a search. Continuing the search, police team led by SHO of Kareli police station, Anil Singhai trapped the suspected man near under bridge on Rakai road highway named Sadiq Ali when he was riding on a motorcycle. In his search, police seized three plastic sacks carrying ganja weighing around 52-kilograms amounting to Rs 6.24 lakhs, a motorcycle and mobile handset from him. In further investigation, the accused informed that the mobile handset belongs to Saurabh alias Pappu Lunawat, a resident of Jaiprakash Ward, Kareli.
On his identification, police started a search and nabbed another accused Saurabh alias Pappu. Police are trying to take remand of arrested drug peddlers for identification and apprehension of other persons working in the network of narcotics trade. Kareli police have registered a case under Section 8/20 of NDPS Act while further investigations are underway. The drug peddlers were apprehended with active working of police team comprised of ASI, Sanay Suryavanshi, Head Constables, Rajesh Sharma, Constables, Rajendra Patel, Sanjay Mishra, Anurag, Laxmi Nagpure, SI, Rohit Patel, Satyendra Bagri, Kuldeep Somkunwar and Rajesh Bagri. On the achievement, SP, Dr. Gurkaran Singh has declared cash reward for members of police team.