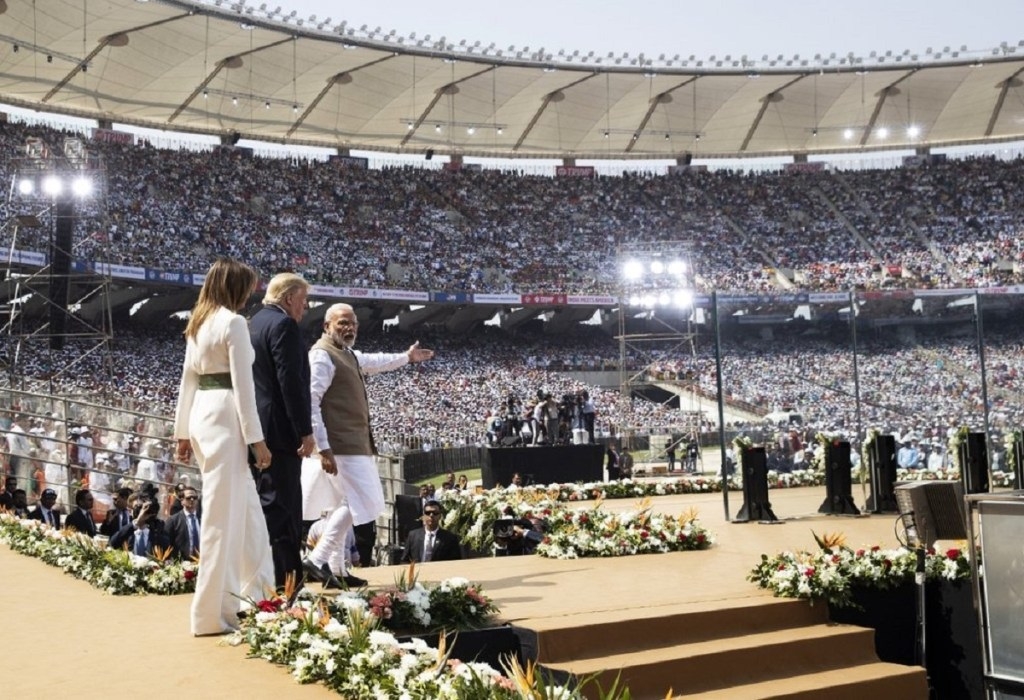 AHMEDABAD :
OVER a lakh people gathered at the newly built cricket stadium in Motera area on Monday to witness US President Donald Trump and Prime Minister Narendra Modi addressing the gathering at the Namaste Trump event. Though Trump's address was scheduled to start after 1.30 pm, people from across the state started arriving at the stadium, touted as the world's biggest, since 8 am.
There was a continuous stream of people walking towards the stadium since morning as parking areas for vehicles were away from the stadium. While many of the attendees were transported to the venue in buses, some were from the city and were eager to see both the leaders. Many in the stadium were seen wearing masks with images of Modi and Trump printed on them.
Here's why Motera Stadium holds significance in hearts of Indian cricket fans!
NEW DELHI :
AS Motera Stadium hosts US President Donald Trump at a grand event, here's a look at why the ground is special to cricket fans across the country. The first major moment in the ground's history came in 1983 as Indian batting maestro Sunil Gavaskar went past England's Geoffrey Boycott to register the highest number of Test runs at that time.
The 1983 World Cup-winning hero Kapil Dev also had a major strong point of his career at the Motera as he went past New Zealand's Richard Hadlee's wicket tally in Test matches. In 1994, he surpassed Hadlee's 431 Test wickets. With this, the all-rounder created the record for having the most number of wickets in the longest format.
However, this was broken by West Indies' Courtney Walsh in 1999. 2011 World Cup campaign is remembered by all, but it was the quarter-final clash at Motera which made the Indian side look invincible in the tournament. India locked horns with Australia in the quarter-finals, and Yuvraj Singh took the side over the line and India then went on to become the first side to win a World Cup on their home soil.