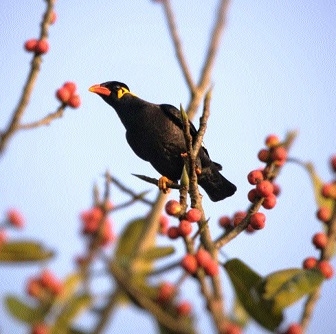 By Roshan Chachane :
RAIPUR,
As the population of endangered wild animals/birds such as 'Myna' is dwindling, Chhattisgarh still lacks a comprehensive recovery plan of endangered, rare, extinct and threatened species. Although, there are independent projects for recovery and conservation of Tigers, Wild Buffaloes and Bastar Hill Myna, other species are completely overlooked. Chhattisgarh Forest Department has no Wildlife Census data available whereas Wildlife Census needs to be conducting every year.
Data on Rare, Endangered, Threatened and Extinct Species in Chhattisgarh is also not available. They need systematic assessment and population census before drafting of recovery plan. Elephant population in Chhattisgarh was counted at 247 according to 2017 report by Ministry of Environment, Forest & Climate Change (MoEFCC). But, the current status of elephant population is unknown. State hasn't conducted Elephant census in the anytime in the recent past. One of the most endangered species State Bird 'Bastar Hill Myna' is also heading towards extinction, courtesy of anthropogenic pressure.
The Forest Department had also begun a programme to increase the population of Hill Myna long ago, but of no avail. Pair of Hill Myna was kept at Conservation Breeding Centre, Jagdalpur, but as the Myna doesn't breed in captivity, the programme was dead in water. Even the Habitat of Hill Myna in Kanger Valley National Park (KVNP) is under immense pressure owing to human activity as The Hitavada once highlighted in a story in 2019 after visiting the area.
A check-dam proposed on the Kanger Dhara to develop a boating spot for the tourism was also posing a threat to whatever small population nestle on the trees along the rivulet. Department also has no information on the status of 27 tigers, which disappeared from 2014 to 2018, but it's quite obvious by the recovery of tiger pelts that these big cats have been killed by poachers. So, the State also needs a strong monitoring strategy for tigers. Udanti-Sitanadi Tiger Reserve (USTR) had a pair of tiger and tigress, but as the tiger was killed a couple of years ago, now the tigress roams the forest alone without any prospect of reproduction. There was some scuttlebutt about importing tiger from Madhya Pradesh for breeding, but it turned out to be just that, a rumour.
There is, however, some minor progress in relocation of three villages out of the Achanakmar Tiger Reserve (ATR) core areas. Maps and estimation of new villages with all basic amenities is readied by Chhattisgarh Housing Board. Department is only waiting for approval for Tribal Advisory Board. Chhattisgarh is in dire need to a comprehensive Wildlife Action Plan, which needs to be prepared for Chhattisgarh State to identify the problems and achieve the species and habitat recovery targets, a scientific Recovery Plan has to be prepared by the Chief Wildlife Warden in each state (recommended by MoEFCC) Recovery Programme for critically endangered habitats and species, Asiatic Wild Buffalo and Vulture in Chhattisgarh, Hill Myna conservation programme, Elephant conservation plan for Chhattisgarh, Bird Census required identifying species. Climate change indicator, Wild buffalo conservation needs to be upgrade with latest techniques.
Principal Chief Conservator of Forest (PCCF) Wildlife Atul Shukla told The Hitavada that the programme to import five sub-adult wild buffaloes from Assam. Union Government has decided that importing tiger from other states is a terminal action, which means the last resort. But before that we need sufficient staff, declare Guru Ghasidas/Tamor-Pingla as Tiger Reserve. We have written to Government for staff. So, right now they don't plan on bringing a tiger for the tigress. Tiger Census is conducted by Government of India, elephant census by WII and wild buffalo by the Department. However, there is no data on population of small animals as counting them is very difficult. It takes time, money and man power. They are also open to help of private organisation. He also refused to have any plan on anvil for elephant corridor.