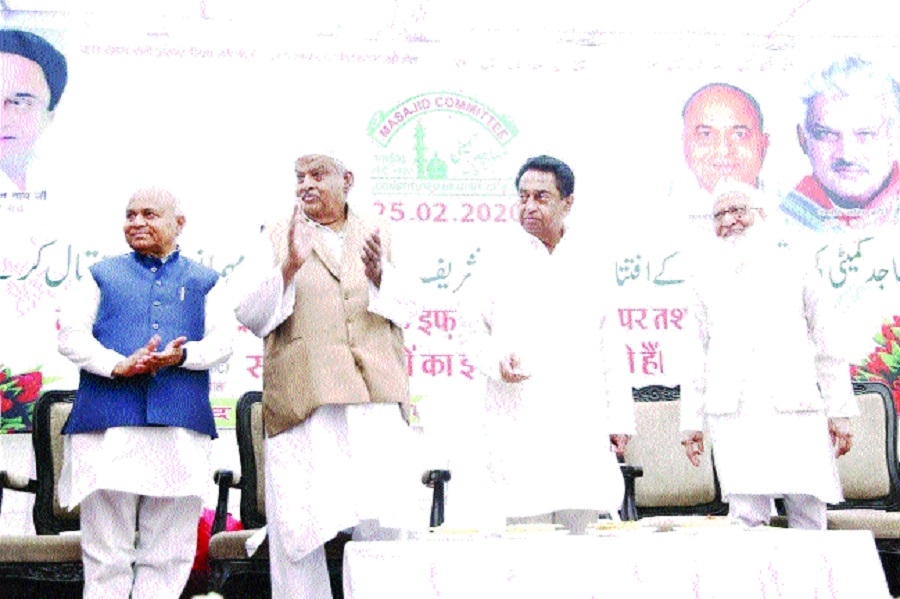 Chief Minister Kamal Nath dedicating new building of Masjid Committee in the State capital on Tuesday.
Staff Reporter :
Imam to get Rs 5,000 and Moijjan Rs 4,500 as honorarium
Chief Minister Kamal Nath has said that service to humanity is the biggest religion. Through this we help the needy people and follow our religion and its message. He was dedicating the new building of Madhya Pradesh Masjid Committee near Tajul Masjid in state capital on Tuesday. On this occasion, he agreed to the proposal of Minority Welfare Minister Arif Aqueel that honorarium of Imam should be hiked from Rs 2,200 to Rs 5,000 and the honorarium of Moijjans from Rs 1,900 to Rs 4,500.
He said "our country and our culture is great because it has the characteristic of being united with a sense of honour and respect for each other. This culture of our unity in diversity is intact till date because the people of the old generation not only fulfilled it but were also dedicated to protecting it." He added that that "Biggest challenge before us today is that we should bring the origin, civilisation and diversity of our great culture closer to the younger generation and they should imbibe it, so that our country can always remain safe and united."
He said that it is the responsibility of the elders to provide the right direction and vision to future generations. Co-operatives and Minister incharge of Bhopal Dr Govind Singh said that the Masjid Committee is an exemplary organisation in the field of service, which provides help and support to the poor sections of the society. Minority Welfare Minister Arif Aqueel said that with the construction of new building of the Masjid Committee, the work of helping people will become more systematic. On this occasion, Chief Minister distributed the scholarship given by the Masjid Committee to the needy girls.