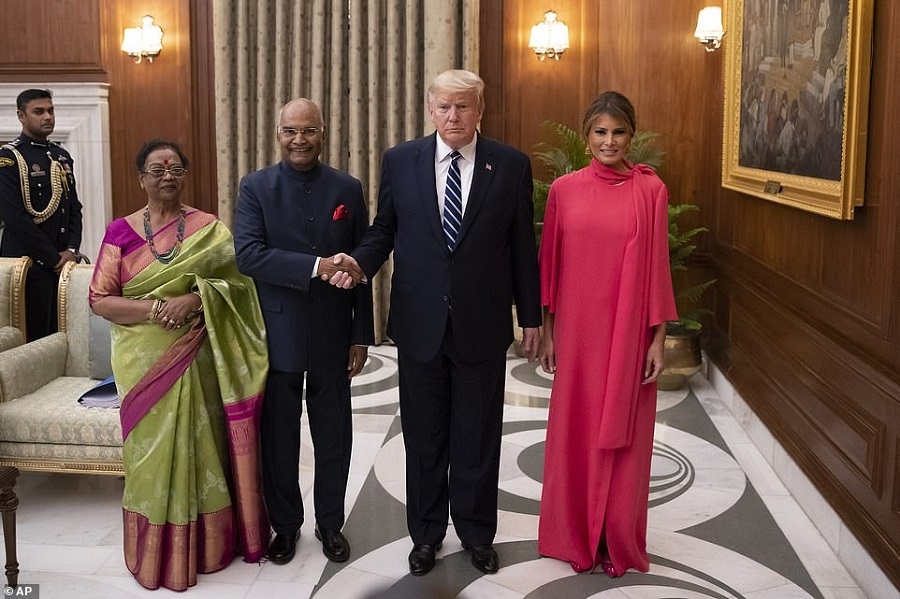 NEW DELHI :
A STATE banquet was hosted for US President Donald Trump at the majestic Rashtrapati Bhawan on Tuesday night with its forecourt decked up to its glory for the last engagement of his two-day visit to India. The architectural marvel, spread over 130-hectares, was lit up for Trump and his wife Melania were given a ceremonial welcome at the forecourt, which has a mixture of pink and cream sandstones. As the Presidential Bodyguards lined up on the stairs leading to the Durbar Hall, Trump, who was received by President Ram Nath Kovind and his wife Savita, were taken to the hall where the visiting dignitary took a round.
The banquet was attended by Vice President M Venkaiah Naidu, Prime Minister Narendra Modi, several of his ministerial colleagues, four Chief Ministers -- Sarbananda Sonowal (Assam), Manohar Lal Khattar (Haryana), B S Yediyurappa (Karnataka) and K Chandrashekar Rao (Telangana). Chief Justice of India S A Bobde, Chief of Defence Staff Bipin Rawat, Wipro founder Azim Premji, banker Kotak Mahindra, musician A R Rahman besides others also attended. Later, the Kovind and Trump, along with their spouses posed for a picture before a 5th century statue of Gautam Buddha.
It was followed by official talks during which Kovind said importance of the Indo-US relations could be gauged from the fact that a large number of people came to welcome him. "The US is a valued friend and India is deeply committed to the strategic partnership between the two countries," Kovind said in his opening remarks. The US president said the last two days have been "very productive". Both the countries are working for trade and military deals, Trump said. He said coming to India has always been a learning experience and thanked President Kovind for the hospitality extended to him and his entourage. A elaborate spread was laid out for the Trumps.
The vegetarian delicacies served included coriander shorba, aloo tikki with palak papdi, zarkhez zameen (seasonal vegetable cooked in its juice) and dal raisina. The non-vegetarian fare includes raan-ali-shaan (marinated lamb) and cajun spiced salmon (pink salmon marinated with cajun spices and roasted in clay oven). For desserts, hazelnut apple pie with salty caramel sauce and malpua rabri roll were served. In his banquet speech, Trump said he had "tremendous two days" during which lot of business was done. "It was very special two days.
I love India, I respect Indians. We will be back, we will be back," he said. Kovind said the past two days were very special for India as the US-India relations were very deep. India, US sign 3 pacts in health and oil sectors INDIA and the US signed three agreements in health and oil sectors on Tuesday. A memorandum of understanding (MoU) was signed on mental health between the health departments of the countries.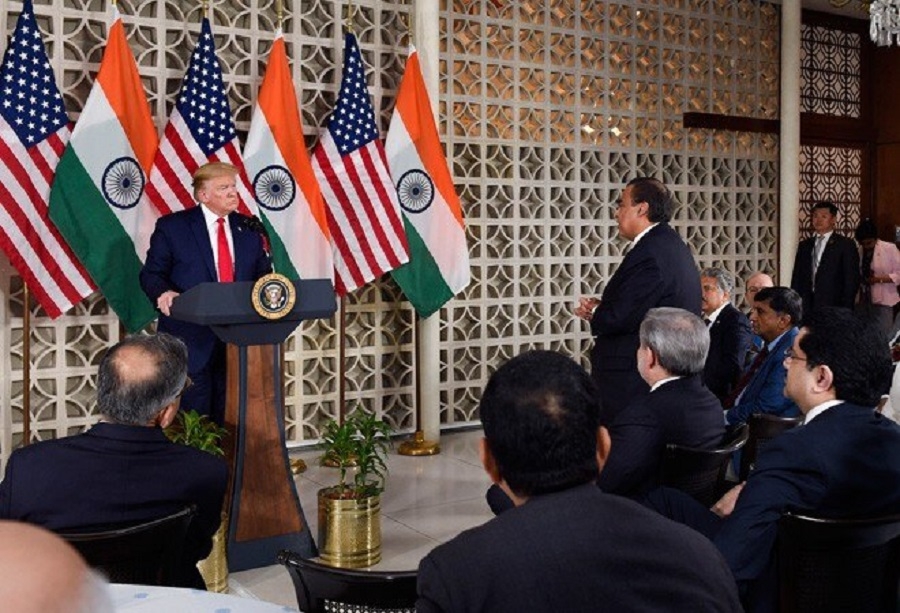 US President Donald Trump speaks interacts with Reliance Industries Chairman Mukesh Ambani during a meeting with business leaders at US embassy in New Delhi on Tuesday. (PTI)
Another memorandum of understanding on the safety of medical products was signed between the Central Drugs Standard Control Organisation with the US Food and Drug Administration. A letter of cooperation was signed between IOC Limited and Exxon Mobil India LNG Limited and Chart Industries Inc, US. India, US have 'almost closed' contours of limited trade pact: Goyal INDIA and the US have moved to the next level of engagement having "almost closed" the final contours of limited trade package, and will come up with a comprehensive trade deal going forward, Commerce Minister Piyush Goyal said on Tuesday. Goyal was participating in the 'US-India Forum: Partners for Growth' conference here. "On the economic front, having almost closed the last contours of the limited trade deal and with the announcement of a much larger trade deal in the offing, we have moved to a new level of engagement," Goyal said. The Minister said the engagement will help both sides on different fronts. While India will benefit by engaging with new technology, the US will gain by India becoming a big source for talent. Sharing the Government's vision, the Minister said our goal is that by 2022, every family should have own home with 24 hours electricity, clean cooking gas, access to internet, and good school and health care around the home.
Trump woos India Inc to invest more in US, promises easing of regulations further
NEW DELHI :
US President Donald Trump on Tuesday wooed Indian industry leaders to invest more in America, promising to reduce more regulations in his country as he looked for overseas investment to boost the economy there. Speaking at a high-profile CEO round-table which included captains of the Indian industry such as Reliance Industries Chairman Mukesh Ambani, Mahindra Group Chairman Anand Mahindra, Tata Sons Chairman N Chandrasekaran and Aditya Birla Group Chairman Kumar Mangalam Birla, Trump reassured that regulations "will only get better" for investment in the US.
The Indian industry leaders apprised the US President of their ongoing respective businesses and investments in the country. "I want to thank you all. Congratulations on your success. Hope you come to the United States and invest more billions because I view it not as billions, I view it as jobs. We have great people...," he told the gathering. When pointed out that businesses still have to go through regulatory challenges -- especially administrative and in the legislative environment -- in the US, Trump said, "Some of the regulations you have to go through are statutory process ... We are going to cut lot more regulations ... A lot of them will be cut and you will see a big difference and it will only get better." Stressing on the need for companies of the US and India to invest in each other's country, Trump said Governments can only aid in creating jobs and it is the private industry that actually creates jobs. Stating that he has been working closely with Prime Minister Narendra Modi, Trump said, "We create jobs here, and he creates jobs over there through yourselves."
On Modi, he said, "Somebody said he is such a nice man and I said well he is actually he is a very tough man but he is a nice man. He is doing a fantastic job." During the interaction, he said a trade deal with India is in the works but did not share any details. "It has been an honour to be here," he said on visiting India. "We just did a lot of business with India where they will buy helicopters worth USD 3 billion." Claiming that he is going to win the coming US presidential elections that will cause the markets to boom, he said his Government has done a lot for the economy, healthcare and military. Trump reiterated that under his leadership the US economy has grown and has "never been as good as it has been" but has been held back by the upcoming elections.