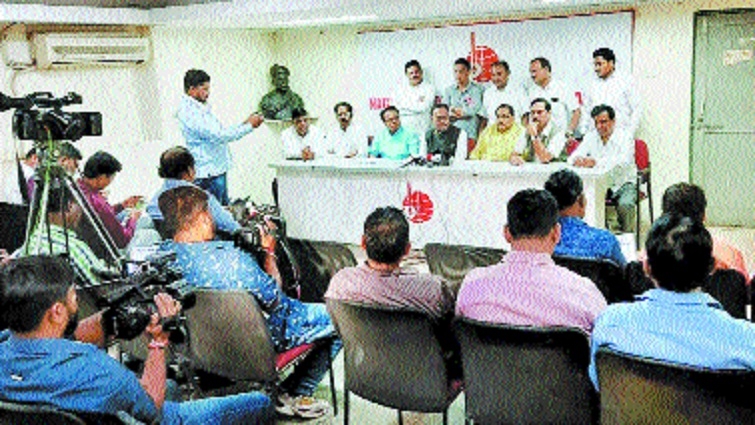 Chandrashekhar Bawankule addressing the press conference. Arvind Gajbhiye, Dr Rajiv Potdar and others look on.
Principal Correspondent :
BJP registers opposition to the Sarpanch Bill that advocates direct polls of Sarpanchs
Alleging that the Maha Vikas Aaghadi (MVA) led by Chief Minister Uddhav Thackeray is running Government in Maharashtra without any coordination among the constituent parties, ex-Minister Chandrashekhar Bawankule said, "Everyday their ministers make contradictory statements creating confusion among the public. It is hampering not only the morale of the people but also of their party workers."
Bawankule was addressing the mediapersons at Tilak Patrakar Bhavan on Tuesday after the agitation by Bharatiya Janata Party (BJP) against various policies being brought by the MVA Government. Narrating the example of Dr Nitin Raut, Maharashtra's Energy Minister who has announced 100 unit free electricity, Bawankule pointed out, "The announcement got the setback from home front, when MVA ally Nationalist Congress Party leader Ajit Pawar opposed it. Pawar said that providing so much power free of cost would bring load on State exchequer.
I personally welcome the decision of Dr Raut who should provide fund to Maharashtra State Electricity Distribution Company Limited (MSEDCL) and implement what he said." "If the management of electricity is done in a proper way, State would never face the problem of loadshedding. State has no dearth of power and the it is available in open market too. It is BJP who stopped the loadshedding. In our time State had never faced the problem of loadshedding," asserted Bawankule.
Criticising the decision of MVA Government of introducing bill on indirect poll of sarpanchs, Bawankule brought to the notice of mediapersons, "It was BJP who had taken decision of electing Sarpanch from the public. But MVA has canceled that decision because of which the Sarpanch would be chosen by the elected members. This decision is the best example of dictatorship. Majority Sarpanch are not on the side of Government's this decision. I feel Government should rethink about this bill." "The decision taken by Government regarding Sarpanch election is out of political vendetta. Awarding the authority to elect their Sarpanch, to the villagers was a wise and magnamimous decision of BJP.
Unfortunately this Government has something different in its mind. It has also conspired against the villages as it stopped all the development works by reducing the funds of Municipal Council and Nagar Panchayat. It is feared that the fund worth Rs 500 crore would be lapsed," accused Chandrashekhar Bawankule.
MVA has alleged previous BJP Government of corruption in Samruddhi Mahamarg project. When asked Bawankule about it he argued that Shiv Sena was the ally of BJP in that Government. "Everything was decided in consultation with Shiv Sena which is the ally of MVA Government. If that allegation is to be made then it would go against that party too." Arvind Gajbhiye, President of Nagpur District BJP Unit, Dr Rajiv Potdar, former President, Ramesh Mankar, ex-President of Nagpur Zilla Parishad and others were present in the press conference.