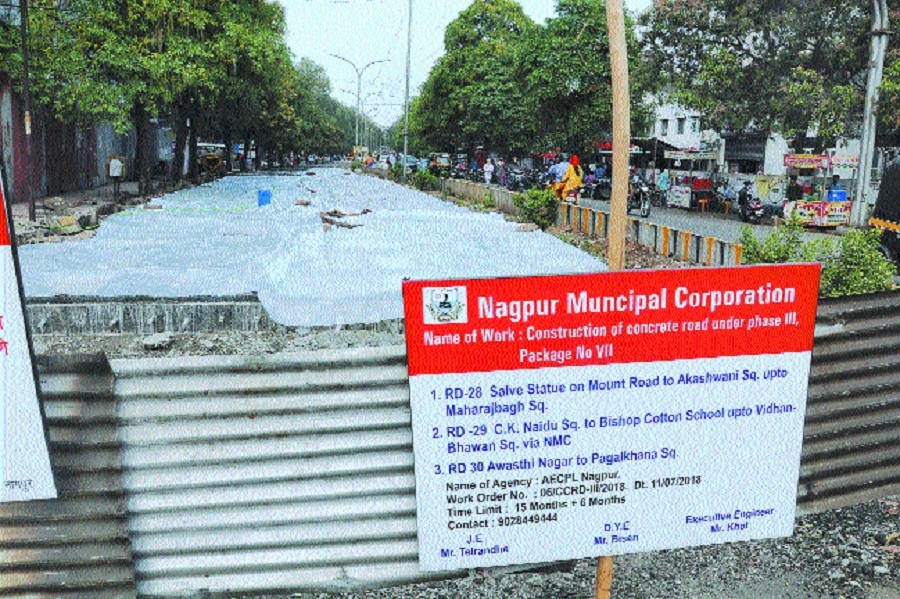 Draped in White: A protective cover of plastic on newly built concrete road in front of NMC's Central Office to prevent evaporation of water from small ponds built for curing process.
By Sagar Mohod :
Call it Mundhe effect or proximity to seat of power, but whatever the reason one is in awe of Nagpur Municipal Corporation (NMC) machinery for showing it to the world their prowess in execution of public works. A road stretch, just about 500 metres, in front of NMC's Central Office in Civil Lines is on verge of completion in a record period of time, just about one month.
Yes, it is a concrete road that is being constructed and nearly 80 per cent of the work stands completed and it's all done within a month's period. Sounds amazed! Rightly so, as in sharp contrast at many places in the city Nagpurians are at receiving end due to undue slow execution of ongoing road works. One can cite 'n' number of examples to showcase utter disregard to public safety and their convenience as concrete road works continue to drag on for months together. Take for example the road in front of Rajwada Palace in Mahal area where one stretch from near Tata Parsi till Haj House was completed a few months back. However there is no sign of any activity on the other portion on the same stretch leaving people visiting the area in lurch.
Along with functions at Rajwada Palace, wholesale medicine market also functions in area. But for civic officials this matter is of little concern as they are unable to pull the contractor to speed-up the construction work. Another site where construction is going on at snail's pace is Government Medical College circle to Baidyanath Square. Similar is the case with ongoing work on Ridge Road. On both segments Public Works of NMC was seen lacking in ensuring that construction is speeded up so that people can be spared the trouble. Even the progress of construction of concrete road on Parallel Ring Road is a matter of concern.
For no fault of theirs, citizens have to bear with bad roads, dust, narrow road as contractors have their own way of executing the civic works. Incidentally before posting of Tukaram Mundhe as new Municipal Commissioner there was no sight of any hurry of starting work on other stretch in front of Central Office of NMC. For long citizens were troubled by uneven road surface and faced even bigger problem while crossing over to other side where concrete road was already in place.
The mismatch in road levels was quite dangerous for road users but though this was a regular sight no senior official nor elected office bearer was troubled. But things seems to have moved fast after new Municipal Commissioner started review of progress of ongoing development project. Within no time the contractor accelerated the construction of concrete road and the result is now for everyone to see. The regulars to NMC could see the difference in approach on part of contractors engaged by civic body for road works. The road side vendors too were taken by surprise at speed of work as previously the contractor had taken considerable time to complete one stretch from Vidhan Bhawan Square till Bishop Cotton School T-point. Apart from speed with which the concrete roads put constructed, the due diligence in curing is something which one cannot miss.
While on other work sites many a times the small ponds crafted on newly-constructed roads for curing process remains dry for a fairly long time, on the stretch in front of NMC office the contractor is taking extra care and even spread plastic sheets to prevent evaporation of water. Manoj Talewar, Superintending Engineer, Public Works Department, NMC, denied anything peculiar in speed of execution of construction of concrete road in front of civic body's Central Office.
He said speed of work defer by construction sites and it depends upon various factors. In case public utility needs to be shifted then the work is going to take longer time. At this site in Civil Lines, in front of NMC office, lack of traffic movement post evening helped in speeding up the work. In other places, the choc-a-bloc movement of traffic, thick residential or commercial area means contractor faces challenges on multiple front and this slow down the speed of execution, Talewar said further.