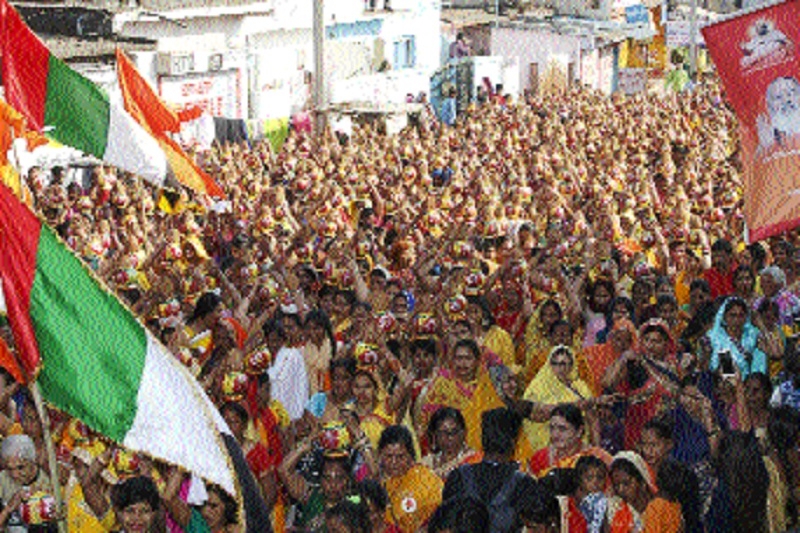 Women in large numbers taking part in the grand Kalash procession taken out from Gwarighat to
venue of yagya during Narmada Gau Kumbh Sant Samagam, on Tuesday. (Pic by Anil Tiwari)
Staff Reporter :
Narmada Gau Kumbh Sant Samagam-2020 being organised by Geetadham started with Narmada pujan, Kanya pujan and Gau pujan by eminent saints and organisers on Tuesday. Under the aegis of Patron and Founder Geeta Dham, Jagadguru, Dr Swami Shayamdevacharya Ji Maharaj, Convenor, Dr Swami Narsinghdas Ji Maharaj and large number of saints, religious gurus worshipped Goddess Narmada as per tradition followed by Kanya pujan and Gau pujan rituals were held by main organiser Gaurav Bhanot. Followed by a grand Kalash procession attended by over 5,000 women devotees holding Kalash on their heads in yellow dresses took holy Narmada Jal in Kalash reached from Gwarighat to the venue of Yagya where Shri Rama Nayaka Erego Pusthi Yagyashala has been created.
Where worship of Bhagawan Pardeshwar and other deities was held amidst chanting of hymns by saints. In the Kumbh, Mahaarti of Narmadeshwar stones made Shivling was performed by saints and devotees. For Sant Samagam, Jagat Guru Dhanshayamacharya Ji, Rasikapeeth Swami Janmeya Sharan Ji, Swami Pranavanand Ji, Mahamandleshwar Avadhesh Kumar Das, Bade Bhaktmal, Bajrang Sharan ji of Tirupatibalaji, Shayam Sharad Das of Udaipur, Ishwardas Ji of Uttrakhand, Mahamandleshwar Suraj Das Ji of Bikanair, Mahamandleshwar Keshavdas Ji, Sardar Nagar, Hoshangabad, Mahant Kamal Nayan Dss Ji Maharaj, Ayodhya, Dandi Swami Kalikanand Saraswati Ji Jabalpur, Rawa Ram Ji Bairagi, Jabalpur Mandal's Swami Akhileshwaranand Ji Maharaj, Mahant Kalinand, Mahant Ramjisharan, Mahant Rajesh Das and others were specially present. Amidst tight security and safety arrangements rituals of Narmada Gau Kumbh Sant Samagam commenced. To monitor an extensive CC TV network for strict surveillance has been established. Along with this heavy police team has been deployed to ensure proper parking, safety of devotees coming from different parts of the country.
Mahamandleshwar Shanti Swaroopanand Maharaj, others arriving today On Wednesday, Mahamandleshwar Shanti Swaroopanand Maharaj, Jagadguru Shankracharya Bhanupura Peethadhishwar Swami Gyananand Maharaj, Mahamandleshwar Gaurishasnkar Maharaj would be arriving to attend the rituals and Saint Samagam in ongoing Naramada Gau Kumbh.