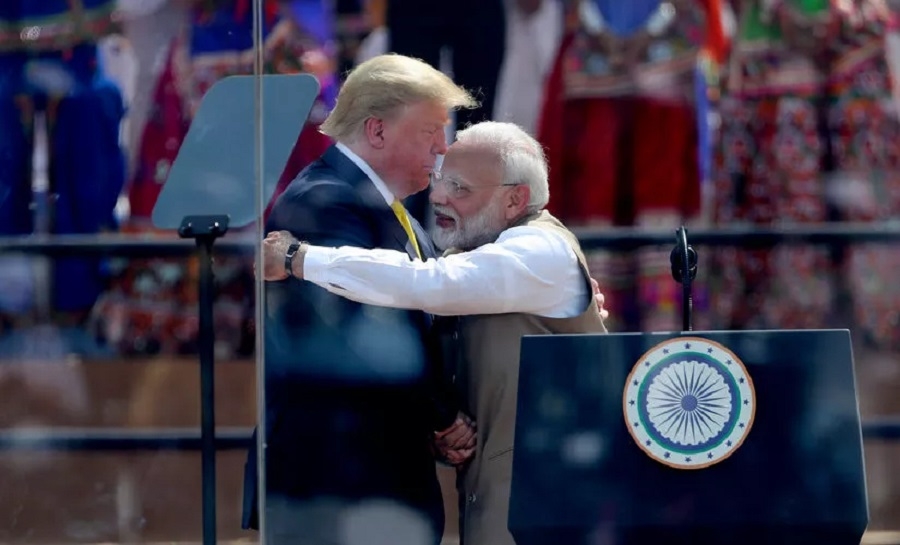 By Biraj Dixit :
I am so happy that the President of United States of America visited us. The POTUS always has a huge presence in whichever part of the world he is. Head of the world's most powerful nation, the POTUS exudes power as no one else in the present day can dream of. His entire entourage was a sight to behold. From the graceful elegance of the First Lady to the seemingly invincible 'Beast', the Americans were every inch a commanding force.

The way they carry themselves, one feels so tempted to believe those Hollywood films where the Americans almost always save the world. And if they are the ones who might save the world, it is only advisable that Prime Minister Narendra Modi hugs the POTUS even tighter. I wonder if Prime Minister Modi did also explain to Mr Trump importance of 'Jadu Ki Jhappi' while explaining the Gandhian philosophy behind the three monkeys. 'Jadu ki Jhappi', they say, has the power to save a man from himself so that he can go ahead and save the world.
If POTUS is safe and sound, the world eventually will reap good rewards. But will it be advisable to leave the entire business of saving the world to the Americans? I mean, of course, we can trust them completely if the world is to be saved from an alien attack but what if the world is under attack by 'climate change'? Interestingly, the world is, presently, under a climate change attack, if only we can make the POTUS see that. Perhaps that was indeed Prime Minister Modi's intention behind spreading some more warmth around so that the 'heat' of the moment becomes apparent. But, I say, one must never doubt the intentions of those who, in the past and even in the present, are working so hard to change the political climates of the regions.
Once they rise above politics, they may also see the writing on the wall and makes attempts to 'clear' the air. Visiting this land of ancient knowledge and profound spirituality, Mr Trump would definitely want to take home some of its wisdom. Immaterial of the fact that he knew little about the man called Mohandas Karamchand Gandhi to pen a few thoughts in the visitors' book at Sabarmati Ashram about the Mahatma, the POTUS did speak of wisdom and might have read Swami Vivekanand. It won't be surprising if we see him imbibe some of Vivekanand's wisdom and truly task himself to save the world, once he learns to pronounce Swamiji's name correctly.
But we can of course forgive the pronunciation, if Sachin Tendulkar and Virat Kohli can, so can we. And when the world can forgive our 'piza' and 'pooleece' and so many other 'fohx pas', we hardly have any moral right to be unforgiving. When it comes to pronunciations we must, I appeal, be doubly kind, for haven't we heard so many times that Swami Vivekanand was a 'mawnk?' I am also so happy that there have been so many agreements between America and India. Isn't it fabulous to come to an agreement that we agree on somethings? A step forward, indeed! But that is what diplomacy is all about one step at a time. We could, though, not get the very elusive trade deal.
My husband tells me that it is all about difference of perceptions. Just like one between him and me. I cry deficit, deficit, deficit and he opens our wardrobe to show surplus, surplus, surplus. It's a difference of perception. But unlike couples, between nations, one can still have hope. On my part, though I must admit, I, just like Prime Minister Modi, am a hard negotiator and am as stubborn as Mr Trump – 'My deal or no deal'. Many US Presidents have visited India and have spoken eloquently about our nation and the friendship between world's largest democracies. And though our nations may or may not move closer, the memories of such visits have always been lasting.
My natural cynicism apart, I have always believed in the warmth of relationships and visits. The media may cry foul over the optics of all the demonstrated camaraderie but I go by the old wisdom that to see is to believe. I completely believe President Trump when he says India has a loyal friend in America…, and know that America always had a true friend in India. I, a common citizen of a great ancient nation, can only hope that the POTUS and his great country truly cherish this bond of friendship. l