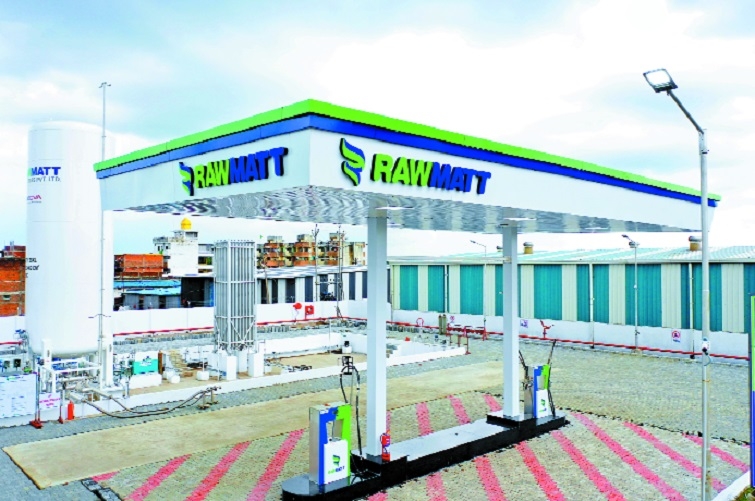 By Niraj Chinchkhede :
City-based Rawmatt Industries Pvt. Ltd, India's first private sector LNG storage and dispensing facility in Nagpur, is all set to open three new LNG refueling stations here within next two to three months. The company is already operating two stations in the Nagpur - one located at Automotive Square and another at Wadi. The new stations will come up at Khapri, Hingna and Pardi. Apart from this, the company is also exploring opportunities to set up similar facilities on Ghat Road and other commercially important locations in and around Nagpur.
Places like Chandrapur and Gadchiroli are also on the company's radar. A senior offer of the company, who preferred not to be quoted, on Tuesday said that Rawmatt Industries is aggressively expanding its based in Central India as demand of the eco-freindly is raising every passing day. "We are in process of setting up compressed natural gas (CNG) refueling stations at various strategic locations in this part of the country to cater to the demand of local automobile sector," he said adding that large number people are making their cars, buses, trucks and even auto rickshaws compatible for CNG.
"Natural gas being the most preferred fuel, we are committed to provide its benefits to the consumers here and create awareness on the eco-friendly, user friendly reliable source of energy," he said. The company is following a unique model to make CNG refueling business in Vidarbha region economically viable. "We bring the natural gas in liquid form (liquefied natural gas) here and then convert it in gaseous form and compress it before dispensing," the company official explained. LNG is transported from bulk LNG terminals to the main stations in specialised cryogenic tankers, where the low temperature of liquefied gas is maintained during transportation.
The tank design allows the fuel to be kept at a temperature of -162 degree celsius. Apart from CNG dispensing, the company also undertakes jobs of upgrading petrol driven vehicle to CNG by installing CNG kit. Similarly, it also makes diesel trucks, buses and vans compatible for CNG consumption. "As per the studies cost savings on fuel by using natural gas is around 35 per cent when compared to conventional fossil fuels like petrol, diesel and LPG. The maintenance cost is also less in case of natural gas. However, as there were no refueling stations here in the region till recent past, people were shying away from buying CNG-compatible vehicles. But things have changed dramatically since we have opened up first CNG outlet here. Today, CNG is becoming first choice of many institutions, companies, private rickshaw drivers and even individuals. The trend is fast picking up," said the company official. According to a rough estimate, more than 3.5 million vehicles in India are running on CNG. In cities like Delhi, Noida, Ghaziabad and Mumbai large number of people have already switched over to CNG.