SC Collegium confirms Justice Dharmadhikari as new Chief Justice of Bombay High Court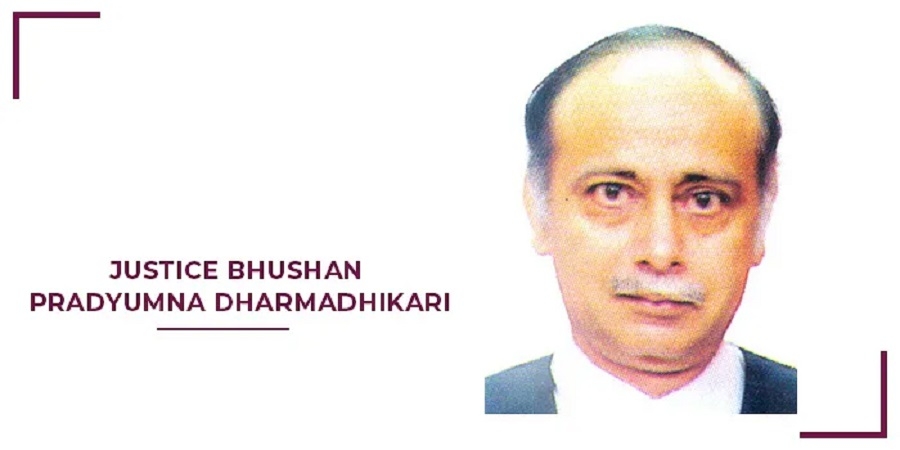 Staff Reporter :
A DAY after assuming charge as acting Chief Justice of Bombay High Court, Justice Bhushan Pradyumna Dharmadhikari has been confirmed as the new Chief Justice by the Supreme Court Collegium. He will hold the post till April 28, 2020 the date of his retirement.
The Supreme Court Collegium in its meeting held on February 24 confirmed Justice Dharmadhikari's appointment as the Chief Justice. Chief Justice of India Justice Sharad Arvind Bobde and Chief Justice of Bombay HC Justice Dharmadhikari both are from Nagpur making it a unique coincidence in legal history. The legal fraternity here has warmly welcomed this development and wished success to Justice Dharmadhikari.
During this short tenure, legal fraternity expects lot of good work and decisions from him to strengthen the judicial infrastructure across Maharashtra. Heading Bombay High Court is considered as quite prestigious for any judge and the post of Chief Justice is equivalent to a judge of Supreme Court. Justice Dharmadhikari was named as Acting Chief Justice of Bombay High Court from February 24 and a notification was issued by Ministry of Law and Justice pursuant to retirement of incumbent Chief Justice Pradeep Nandrajog who demitted his office on February 24. Known for his down-to-earth behaviour and sharp wit, Justice Dharmadhikari has never shied away from delivering hard-hitting judgements even going against popular mood. His tough stance on irrigation scam and abuse of public offices by corrupt officials and their shameless political godfathers, won him lot of praise from people and sent a chilling message to the high and mighty. Born on April 28, 1958 Bhushan Dharmadhikari did his B.Sc. (Biology), Additional BA in English Literature and LL.B in 1980 from Nagpur University.
After obtaining his law degree, he joined the chambers of Advocate Y S Dharmadhikari at Jabalpur (Madhya Pradesh), for brief period and then came back to Nagpur and worked under Advocate H S Ghare till 1984. Thereafter, he started his independent practice and appeared for several government corporations, industries, employers, unions and private clients in all courts and tribunals.
He was secretary of VLLPA and was library-in-charge and treasurer of HCBA. He was elevated as Additional Judge on March 15, 2004. He was part of Aurangabad bench for number of years so also the Nagpur bench where he headed division bench for many years with distinction. He was senior administrative judge of Nagpur bench for almost two years before moving to Mumbai. As Chief Justice of Bombay High Court, Bhushan Dharmadhikari will have major tasks in front of him to decide representations made by various HCBAs against transfer of judges to other benches and abrupt shifting of matters from Nagpur and Aurangabad benches to Mumbai.