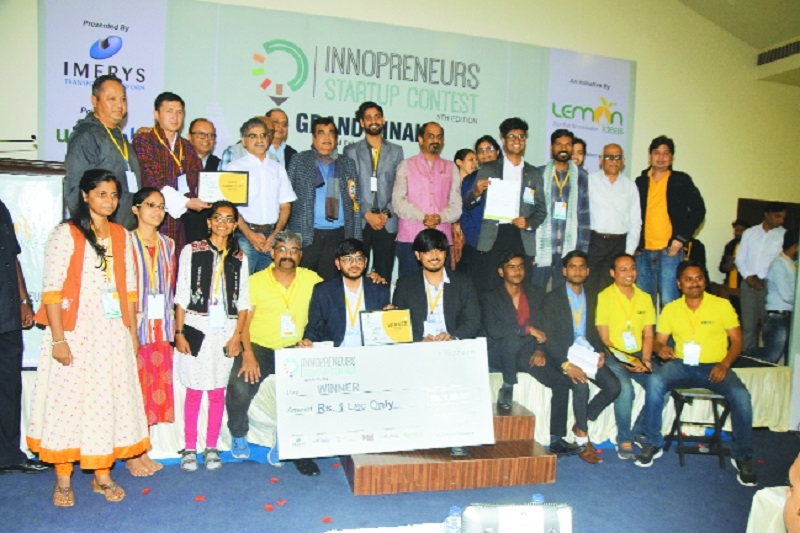 Union Minister Nitin Gadkari with the award winning entrepreneurs and others.
Business Bureau :
Union Minister Nitin Gadkari called entrepreneurship, science and technology and research as 'knowledge' and said that we should convert knowledge into wealth and waste into wealth. He was speaking at the award ceremony of Innopreneurs Grand Finale held here on Sunday. Grace Akello, Ambassador, Embassy of the Republic of Uganda, New Delhi, was the special guest on the occasion. Gadkari further appreciated that the entrepreneurs who were taking initiatives through their innovative ideas. He gave a couple of example of converting waste into wealth and innovative initiatives of MSME. He mentioned that innovations and new designs were important and the need of the hour was using all potential and talent for increasing exports and creating more employment potential.
He encouraged the entrepreneurs present on the occasion to go ahead with their innovations and expressed confidence that very soon they would be able convert their innovations into wealth. He also appreciated VIA for their support to entrepreneurs. Akello briefed the audience about the business opportunities in Uganda in various sectors and about the close association of generations of Indians with Uganda.
She encouraged Indian entrepreneurs to come and explore opportunities there. Atul Pande, Past President of VIA, spoke about the various schemes and initiatives of VIA to support entrepreneurs, especially 'NAVIN' for students in collaboration with Raman Science Centre and Lemon Ideas. He also spoke about the association with Lemon Ideas and continued closer ties in the time to come. Welcoming Gadkari, Deepak Menaria briefed the audience about Innopreneurs competition and about some of the innovative ideas in competition and also about Lemon ideas journey of last six and half years of supporting entrepreneurship and startups through training, mentoring and incubation. He thanked institutions like VIA for their support to Lemon Ideas.
The first prize of Rs lakh was won by Cortex Technologies, a tech venture from Delhi working on a patentable concept of creating the world's first commercially available mind-controlled prosthetic-arm for people with upper limb amputation. The first runner up prize of Rs 60,000 was won by The Green Road team from Bhutan building roads from plastic and waste materials while Recycle Bell Pvt. Ltd, which manufactures products from waste materials from Amravati, was the Second Runner up. The firm won prize worth Rs 40,000.
Apart from this, there were special prizes for the entrepreneurs working in rural areas like Satyendra Sing Lihare from Chhattisgarh, the youngest entrepreneur Rituraj Giri from Edible Water packaging, and for lady entrepreneurs Priyanka Gavhane, Team Yjnang, Satara. Some of the start-ups were Last Ripple - a featured startup from Bangalore working on a patent to convert pets cremated remains into living memory trees; Vision Empower - a social not-for-profit enterprise from Bangalore making STEM education inclusive for visually impaired students; Courier Wala - a courier service aggregator from Delhi ensuring high shipment delivery rate and best price across the country; IMature - a Edtech startup from Bhopal creating courses on Digital Citizenship and Internat Maturity.
The jury for the grand finale included Nagaraja - Angel investor and Mentor, Shankar, GIZ Germany, Vishram Jamdar, Chairman VNIT, Atul Pande, Suhas Budhe, Vice President of VIA. The winners were felicitated at the hands of Gadkari. Programme was anchored by Mukesh Ashar, Director with Lemon School of Entrepreneurship. Krishnakant Chaturvedi and others worked hard for the success of the event. Prominently present were Poonam Menaria, Suhas Budhe, Dr Prabodh, Sanjay Arora, Abhinandan Palsapure and Ashwin Korde.