'VLF will start new era of knowledge' First Vidarbha Literary Festival (VLF) off to a grand start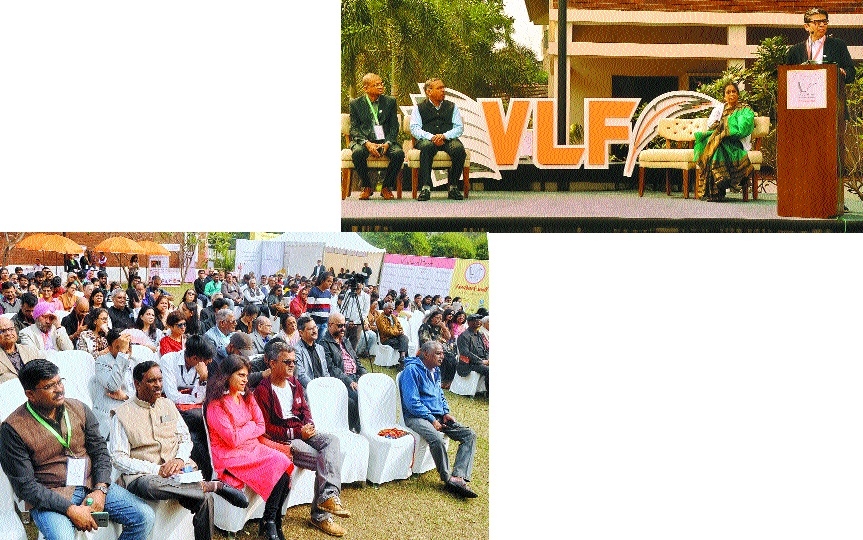 Keynote speaker Santosh Desai addressing the gathering at the inaugural session of the two-day Vidarbha Literary Festival on Saturday. Hemant Lodha, District Collector Ravindra Thakre and Chitra Verma look on. (Below) The gathering at Chitnavis Centre. (More reports on Pg 12) (Pics: Anil Futane)
Staff Reporter :
"THE love for reading isn't the only thing that makes literary festivals popular in the country, the love for all art forms and forms of expression is what makes them so enjoyable," said Santosh Desai, noted branding maestro, social commentator and columnist as he inaugurated the first-ever two-day Vidarbha Literary Festival (VLF) on the central lawns of Chitnavis Centre, Civil Lines. Desai's opening address set the tone for the day that witnessed intense sessions by eminent authors and overwhelming response from the lovers of literature from the city. Desai said, festival is like building a monument in time to cherish different ideas. "It is not just a place to watch debates play out on stage, hear the words of established authors, and discover new writers," said the author of book 'Mother Pious Lady'.
"Literary festivals are a way to connect with like-minded people to create a community, who enjoy a good book and the creative scene to build a knowledgeable atmosphere," he said. "India is now slowly becoming a hub for big literary meets or festivals. This first edition of VLF will definitely start a new era of knowledge and literature that will represent Nagpur at national and international level," Desai asserted. The celebrated author felt that events like VLF brings out the impulse of creativity. It is not about the form or media but the vibrant burst of creativity that is a major gain of such engagements, he said. "If I were to identify two broad impulses that come out of this, one is creative impulse.
You are seeing new kind of interactions. We are challenging foundational ideas, like gender, like sexual orientation. We are seeing absolute burst of creativity. Graffiti artists, podcast, tik-tok which is truly vibrant mediums of creativity," Desai added. The event commenced with lighting of traditional lamp at the hands of the guests. Ravindra Thakre, District Collector, was the chief guest of the inaugural function while Chitra Sharma, Vidarbha author and Hemant Lodha also shared the dais. Lodha made the opening remarks. Thakre appreciated the efforts of organisers to conduct the event in Nagpur.
He urged people to attend this two-day event in large numbers. Chitra Sharma talked about women empowerment and need for changes in the society's attitude towards women. She also appreciated the organisers for conducting VLF in Nagpur. A number of big names from the world of literature are attending the festival. The following sessions had healthy discussions on various facets of contemporary literature. The popularity of the event could be judged from the jam-packed central lawn of Chitnavis Centre. Along with authors, poets and litterateurs, school and college students and youth also participated in the event in large numbers. Many schools had sent students to attend sessions on Day One to listen to world famous litterateurs and authors. Along with discussion sessions, a signature campaign, book exhibition and many other activities have also been organised attracting book lovers and visitors of VLF. The Day One had 24 sessions along with a musical programme in the evening.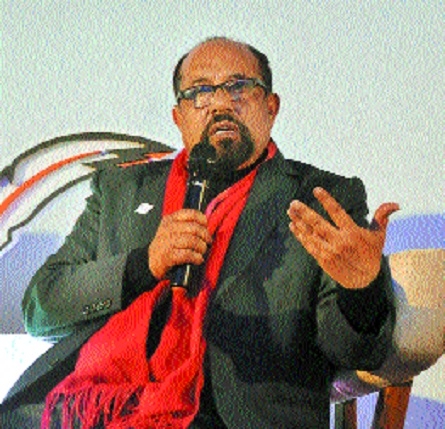 Media's role big in every election: Farhat Bashir Khan FARHAT Bashir Khan, the author of book "The Game of Votes", also a consultant in Media Strategies, talked on "Making and Breaking of Indian Elections" during a session that took place at Tamarind Hall on Saturday. According to Khan, the role of mainstream media in Indian politics had raised during 2014 general elections and now media is playing a major role during every polling in the country.
"BJP pushed mainstream media for campaigning like American election. It has now become a machinery for every party to attract mass voters," he explained. The 2014 elections changed many things and even media is now playing a role of analyst for parties. Exit poll came into limelight during this election that changed the whole campaigning process, he added. Farhat Bashir Khan's book "The Game of Votes" has also highlighted all these aspects. Khan also compared the pre-2014 elections era with the current election status in the country. Dilip Kamdar was the moderator of the session. Khan also interacted with audience during the session and replied their questions.