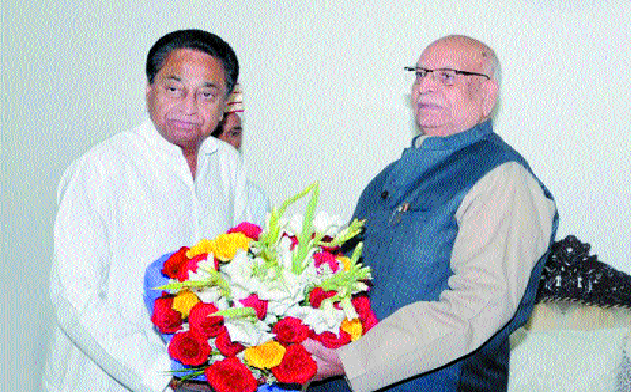 As 18 MLAs, including six ministers, from Jyotiraditya Scindia camp remain incommunicado to State Government, Chief Minister Kamal Nath on Friday requested Governor Lalji Tandon to remove six ministers Imarti Devi, Tulsiram Silawat, Govind Singh Rajput, Mahendra Singh Sisodia, Pradhyuman Singh Tomar and Dr Prabhuram Chaudhary from the Cabinet.
On the advice of Chief Minister, Governor Lalji Tandon removed all six ministers from Cabinet. This action of Government is seen as a befitting reply to rebel Scindia camp. But the removed ministers are still MLAs and can vote during Rajya Sabha election.
Notably, Congress government has alleged that BJP whisked away 22 MLAs, including 18 from Jyotiraditya Scindia camp, and lodged them in a resort in Bengaluru. It is from Karnataka that MLAs sent their resignation letters to Madhya Pradesh Speaker N P Prajapati. Till the filing of the report, their resignations were yet to be accepted.
The resignations of these MLAs have threatened the existence of Kamal Nath Government as BJP is demanding that in wake of 22 MLAs, Kamal Nath Government should prove its mandate on the floor of Madhya Pradesh Assembly. The unfolding drama after resignation of MLAs is indicating that now Kamal Nath Government's days are numbered.
Meanwhile, the Departments of removed 6 ministers are allocated to other ministers
In the wake of removal of six ministers coming from Jyotiraditya Scindia camp, Kamal Nath Government has given departments of ex-ministers in concern to other ministers.
Health Department has been given to Finance Minister Tarun Bhanot, School Department to Panchayat Department Minister Kamleshwar Patel, Revenue Department to Higher Education Department Minister Jitu Patwari, Labour Department to PHE Minister Sukhdev Panse, Transport Department to Excise Department Minister Brijendra Singh Rathore, Food and Civil