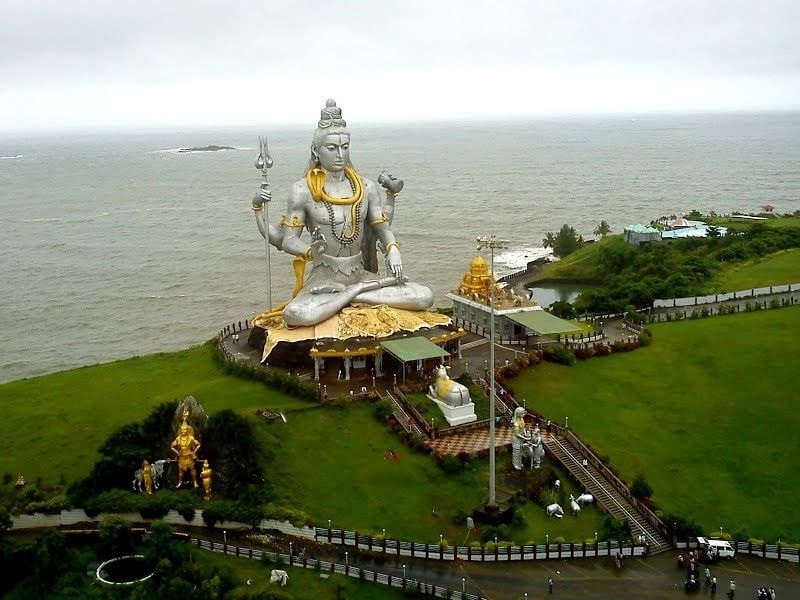 By T G ARORA ;
Childhood friends when they embark on a long journey old memories are revived. and new memorable impressions created in the mind. We are group of six childhood friends, now all in the age group of 58, who decided to go to Goa. Our Goa destination was for the sixth time with my trusted Maruti van. This time we planned to include the Uttara Kannada region of Karnataka in our journey. The first day we started at 8 am from Nagpur and reached Ahemadnagar at 9 pm, distance covered 635 km. After Amravati, up to Aurangabad road condition was very poor. The second day we left Ahemadnagar at 8 am and visited Morgaon. Morgaon has Shri Mayureshwar temple dedicated to lord Ganesha. Morgaon temple is the starting point of the Ashtavinayak pilgrimage circuit.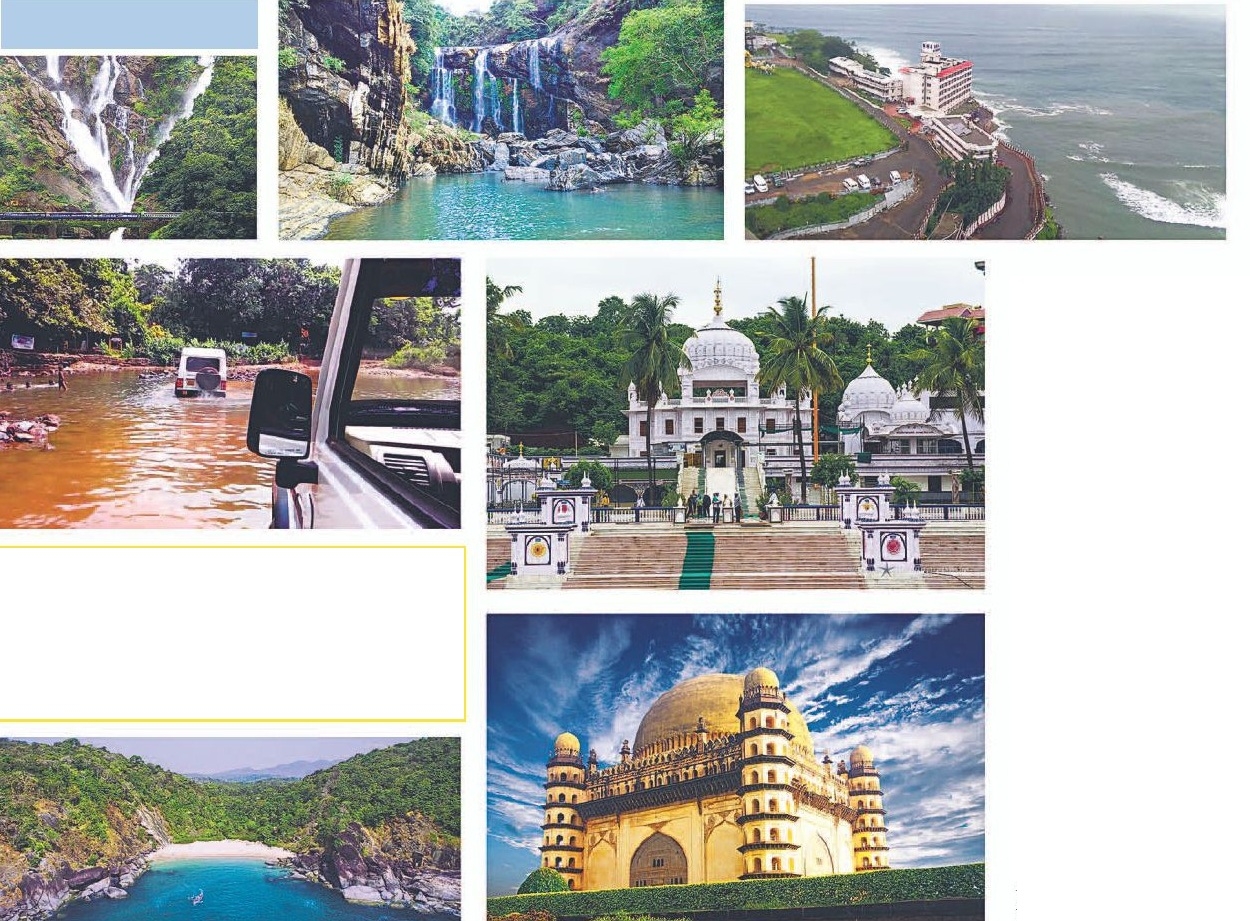 After worshipping Lord Ganesha we headed towards Kolhapur. There we visited Mahalaxmi temple and then reached Radhanagri at 9 pm. Radhanagri is a hill station on Phonda Ghat section, 60 km from Kolhapur. The third day we left Radhanagri at 9 am and reached Arambol beach in Goa at 2 pm. We spent four days in Goa. One night halt each at Arambol beach, Baga beach, Panajim and Palolem beach. Different beaches at Goa give different delights. At Arambol, one can taste a little bit blend of foreign culture. Baga beach has night clubs of 'dance till you drop' type culture. Calangute beach is overcrowded by tourist. Near Calangute is beautiful Candolim beach. To stay with family in relatively peaceful environment Colva beach may be selected.
To enjoy tranquil and serene environment head to the Palolem beach, also called as the Paradise Beach. Along with beaches the first timers must visit the Mangeshi temple, Basilica of Bom Jesus, Fort Aguada, big foot; go for dolphin trip and see the Sunset at Dona Paula. The trip to Goa will be incomplete if one doesn't visit Panjim where he/she can see the Our Lady of Immaculate Conception Church, Mahalakshmi Temple and Miramar beach; enjoy an evening cruise along the Mandovi River. People who love gambling can visit Casino cruise roaming along or on the bank of Mandovi River. Spare some time to take a walk along the bank of Mandovi River in the evening and see the beautifully decorated cruise and casino sailing in the river and see the superbly illuminated bridge over the river Mandovi. Non-vegetarians can enjoy the variety of sea foods in Goa. After spending four days in Goa we left for Gokarna on seventh day. Gokarna is a small temple town on the western coast in Uttara Kannada district of Karnataka. The main temple and deity is Lord Shiva, who is also known as Mahabaleshwara.
'Gokarna' and 'OM' beaches are nearby sea shores which may be visited. After taking darshan of Lord Mahabaleshwara we headed for Murdeshwar. Murdeshwar is a town on the coast of the Arabian Sea and is famous for the Murdeshwar Temple. The main deity of the temple is Sri Mridesa Linga, also called Murdeshwar. This temple is built on the Kanduka Hill which is surrounded on three sides by the Arabian Sea. Murdeshwar is famous for the world's second tallest Shiva statue. The statue is 123 feet in height and is visible from large distances. A 20-storied, 237.5-feet-tall Raja Gopura is constructed at the temple. The temple authorities have installed a lift that provides a breath-taking view of the 123-feet Sri Shiva idol and Arabian Sea from the top of the Raja gopura.
There is also a Rameshwara linga at the bottom of the hill. On the eighth day we headed towards Yellapur and Dandeli. Yellapur is located in the Western Ghats section of Karnataka. It has two famous natural water falls; Sathoddi Falls and Magod Falls. Satoddi Falls is one of the most wellknown falls in Karnataka; popularly known as the Mini Niagara. To visit this fall we have to encounter the worst road conditions. Dandeli is a small town situated on the banks of River Kali in Karnataka. People also visit Dandeli, to worship Lord Dandelappa. Dandeli is surrounded by thick forest cover and it is the second largest wildlife sanctuary in Karnataka. It was a breathtaking experience to drive through the thick forest cover in the evening. The road from Dandeli to Dudhsagar falls is through Castle Rock village. Castle Rock is dense forest area. It was thrilling experience to drive through this area during night. After Castle Rock the road up to Molem is through Ghat section. Our night stay was at Molem. From Molem, Kulem is 6 km and from here Dudhsagar falls is 12 km. From Kulem one has to travel by jeep up to Dudhsagar falls. The road to the falls is through extremely rough terrain.
Dudhsagar is a four-tiered waterfall located on the Mandovi River. It is one of the India's tallest waterfalls having the height of 310 m and an average width of 30 meters. The majestic cascade of white water, gushing over the steep, nearly vertical face of the mountain creates the illusion of a sea of milk falling from the top. After enjoying this breathtaking and awe inspiring water fall we started our journey for Vijayapur. Gol Gumbaz, meaning 'circular dome' at Vijayapura (formerly Bijapur) is the mausoleum of King Ibrahim Adil Shah II. Inside the mausoleum hall is a polygonal podium with steps on each side. In the middle of the podium, a cenotaph slab on the ground marks the actual grave of Ibrahim Adil Shah II. The mausoleum has one of the biggest single chamber spaces in the world. Running around the inside of the dome is the whispering gallery. Even a slight whisper in this gallery can be heard everywhere and if somebody claps from here its echo can be heard several times. After visiting the Gol Gumbaz we headed towards Bidar. Bidar is famous for Gurudwara Guru Nanak Jhira Sahib. In the premises of the Gurudwara there is a spring (Jhira) of cool and fresh water. This spring was emanated by Guru Nanakdebji by shifting a stone and removing some rubble with his wooden sandal. Therefore the name is Gurudwara Nanak Jhira Sahib. The spring is flowing since more than 500 years and has never dried out. There is a Guru Ka Langar where free food is served to pilgrims 24 hours.
On the last day of our journey we visited Basar in Telangana. Basar is famous for the Temple of Man Saraswati, the Goddess of Knowledge and Learning. It is one of the two famous Saraswati temples in India, the other being in Jammu & Kashmir. Many pilgrims come to Gnana Saraswati Temple Basar to perform the 'Akshara abhyasam' ceremony for the children before they start formal school education. After offering the prayer and taking the blessings of Man Sarswati we reached Nagpur at 7.30 pm. Every one of us fully enjoyed the journey of eleven days without any sign of tiredness or boredom. The journey was combination of excursion to hill station, beaches, waterfalls, drive through dense forest, pilgrimage and pleasant drive through the west coast. Thanks to my Maruti van (now 18 years old), which covered about 3,000 km distance without giving a single problem. By God's grace, blessings of elders and good wishes of friends our journey was enjoyable and memorable.
Few life lessons I have learnt from driving:
● In the journey we travel through good as well as bad roads. We keep on going and the roads pass. Similarly in the life happiness and sorrow come and pass. If we keep on going patiently with moral support of family and friends nothing can deter us.
● In the journey if we drive carefully, taking all the precautions we reduce the probability of accident; we cannot eliminate it. If we live with a balanced life style, we can reduce the probability of any ailment; we cannot eliminate it.
● Don't worry about which car you drive; focus on being a good driver. In life, don't worry about the situations; focus on what best you can create.