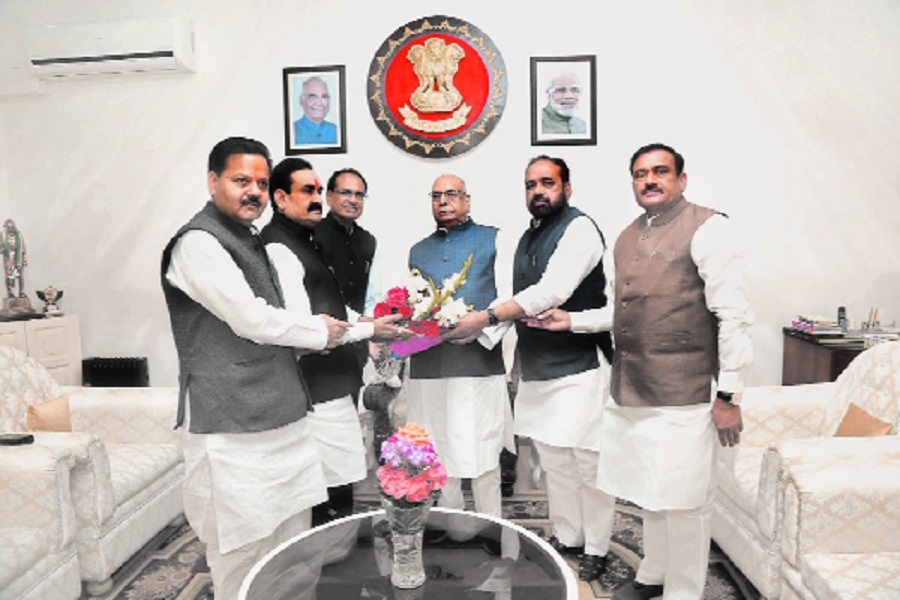 BJP delegation including ex-CM Shivraj Singh Chouhan, Leader of Opposition Gopal Bhargava, ex-Ministers Dr Narottam Mishra, Rampal Singh, Bhupendra Singh etc presenting a bouquet to Governor Lalji Tandon at Raj Bhawan in Bhopal on Saturday.
Staff Reporter :
BHOPAL,
A day after Chief Minister Kamal Nath met Governor Lalji Tandon and reiterated that Congress Government was ready for floor test, on Saturday, Opposition BJP met the Governor and demanded floor test of State Government first when Assembly's Budget Session starts. BJP said that after resignations of 22 MLAs, Congress Government is in minority. Former CM Shivraj Singh Chouhan, Leader of Opposition Gopal Bhargava, ex-Ministers Dr Narottam Mishra and Bhupendra Singh, Rampal Singh were part of the BJP delegation. In the memorandum, BJP delegation told that after 22 MLAs publicly admitted about their resignations, it is clear that Kamal Nath Government has lost mandate and now it has no moral right to remain in power. Constitutionally, now it is impossible to run the Government in State.
BJP stated that Madhya Pradesh Assembly Session is starting from March 16 and by seeing the constitutional provisions, it is the primary duty of State Government to go for floor test to prove its majority. Other than this, no other subject should be taken in the session and if this does not happen then continuing of Government will be undemocratic and unconstitutional. Taking on Congress Government, BJP said that it is also very clear that CM Kamal Nath is trying to build pressure and tempt not only 22 MLAs in concern but also other MLAs (of BJP) as well.
BJP demanded that Governor should use his powers under Constitution's Section 175 (2) and other provisions to direct State Government, running in minority, to prove its majority. Assembly session should be convened and only floor test should be taken up and nothing other than it. BJP also demanded that voting on floor test should not be done through the medium of voice vote rather it should be done through division and pressing of button. Moreover, videography of house proceeding should be done.
Speaker accepts resignations of six MLAs
Staff Reporter :
Bhopal
IN A major development in the run up to uncertainty looming over Kamal Nath Government after 22 MLAs tendered their resignations, the Madhya Pradesh Assembly Speaker N P Prajapati has accepted resignations of six MLAs who were removed as Ministers from Cabinet by Governor on Friday. The names of MLAs whose resignations have been accepted by Assembly Speaker Prajapati include Govind Singh Rajput, Mahendra Singh Sisodia, Prabhuram Chaudhary, Pradhyuman Singh Tomar, Tulsiram Silawat and Imarti Devi. Speaker accepted their resignation under Rule 276 of Assembly Procedure. The resignations have been accepted from the date of March 10. Speaker said that he got information about resignation of these MLAs on March 10. The resignations were not given to him personally.
Hence, to ensure that they have given resignation willingly, he had instructed them to appear in his chamber on March 13. He remained in his chamber from 3.30 pm till 6 pm, but the MLAs did not turn up. Speaker said that again on Saturday, he gave them the opportunity to appear before him from 12.15 pm till 2.45 pm, but again they failed to turn up. He expressed surprise over behaviour of MLAs and found them ineligible to remain member of State Assembly. Notably, Congress Government is claiming that BJP has kept its MLAs in confinement in a hotel of Bengaluru and said that resignations were taken from them forcibly. To substantiate the claim, it stated that MLAs in concerned have not appeared in person to submit the resignations.
Even on Friday, CM Kamal Nath met Governor Lalji Tandon and requested him to use his powers to ensure release of MLAs from allegedly captivity. In the meantime, MLAs are releasing their video from Bengaluru and claiming that they are not under any pressure. The resignations of MLAs triggered an unprecedented political crisis for Congress Government and has threatened its existence. They resigned following their leader Jyotiraditya Scindia joining to BJP after quitting from Congress.