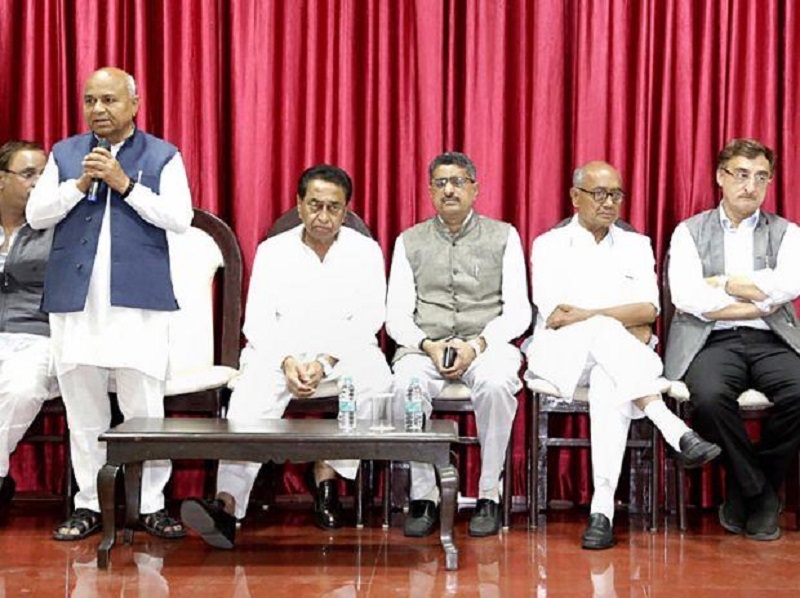 Staff Reporter :
BHOPAL,
Both BJP, Cong issue whips to MLAs
WHETHER the Kamal Nath Government in Madhya Pradesh will survive or not will be decided via floor test to be held on first day of Assembly's Budget Session starting on Monday. Past midnight of Saturday, Governor Lalji Tandon passed the order to the State Government that after his speech, floor test will be conducted because State Government has run into minority following resignations of 22 MLAs. Now, eyes are set on Monday when it would be decided whether the Kamal Nath Government will survive or not. The BJP is claiming that Congress Government has lost mandate following resignation of 22 MLAs. Whereas on the other hand, Congress leaders are confident that Kamal Nath Government will be able to survive the floor test. After the Cabinet meeting, Minister P C Sharma informed mediapersons that every Budget session is like a floor test. "Last time, two BJP MLAs voted in favour of Congress Government and this time, more MLAs will support us during the floor test," he said. When asked about the Cabinet meeting, he said that the Government discussed to postpone the Budget Session following the coronavirus scare. He added that it is the prerogative of Assembly Speaker.
He also added that confined MLAs are not being allowed to contact their families and this shows that they are under confinement and have even been brainwashed. Notably, the Congress Government has already accused the BJP of whisking away 22 MLAs to Bengaluru and keeping them under confinement to create political uncertainty in the State. In the meantime, BJP and Congress leaders held parleys, separately, to decide future strategy and both parties were learnt to have taken advice even from legal experts. Congress leaders met at CM House to formulate next strategy and how to save the Government headed by Kamal Nath. At present, BJP has 107 MLAs while Congress has 93 MLAs. Four independent MLAs, two BSP MLAs and one SP MLA are with the Congress.
A Congress leader, privy to developments in the State Government, informed 'The Hitavada' that Congress is going to knock the doors of Supreme Court to challenge Governor's decision to ask State Government for floor test. He said that no ally party of Congress Government has given letter to Governor that it was withdrawing its support to the Government. Then how the Governor can say that the Government is in minority, he questioned. A day after the Congress issued whip to its MLAs asking them to remain present during Budget session and vote in favour of the Government, BJP also issued whip to its MLAs on Sunday. BJP also asked its MLAs to be present in Assembly and vote during the floor test. Will give my ruling today: MP Speaker on floor test: MADHYA Pradesh Speaker N P Prajapati on Sunday refused to commit whether he will order a floor test in the Legislative Assembly on March 16 as directed by Governor Lalji Tandon to Chief Minister Kamal Nath.
All eyes are on Prajapati whose call on the floor test- allowing or disallowing it on Monday on the first day of the Budget session--will have a bearing on the prevailing political situation in the Congress-ruled State. Cong MLAs return to Bhopal from Jaipur: A DAY before the Budget session of the Madhya Pradesh Assembly begins, the Congress MLAs, who had been camping in Jaipur amid the political crisis being faced by the Kamal Nath Government, returned to Bhopal on Sunday. Talking to PTI, a Congress MLA said the party legislators have returned to the State capital from Rajasthan.
"After landing at Bhopal airport, we are being taken to a hotel in buses. Instead of returning home, we will stay in Bhopal as the Budget session of the Assembly will start on Monday," the MLA said. Day before MP floor test, 21 rebel Cong MLAs move to Bengaluru's Ramada Hotel: ALL 21 Madhya Pradesh MLAs from Jyotiraditya Scindia's camp, who were lodged here at Prestige Golfshire Club, have been shifted to Ramada hotel in Yelahanka ahead of Monday's floor test in the State Assembly.