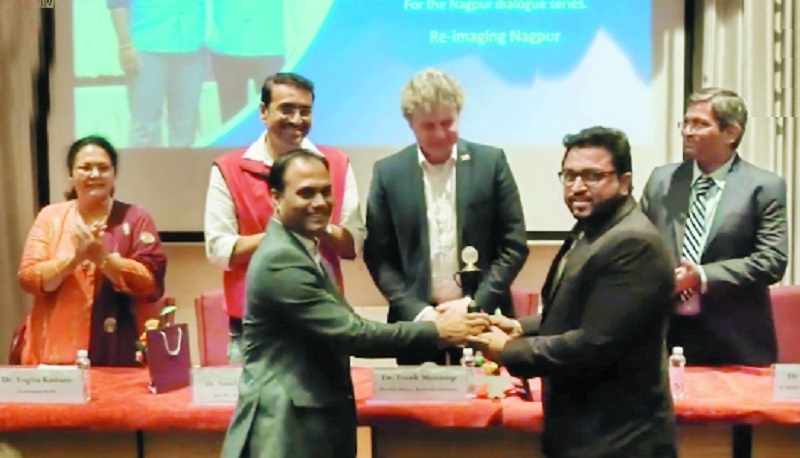 Business Bureau :
The Nagpur Dialogue - a citizen engagement initiative of The Six Senses was recognised by the prestigious The Voice of Nagpur Award at the hands of Mayor Sandip Joshi and Lord Mayor of Karlsruhe Germany Dr Frank Mentrup. The Six Senses was recognised at the Citizen Participation Recognition Awards 2020, an event organised by Ready2 Innovate Worldwide (R2iW) at RGNIIPM, Nagpur.
The German delegation led by Lord Mayor appreciated the concept of The Six Senses to spread the good and positive stories, enlightening citizens about numerous opportunities emerging in different sectors. Nagpur City Mayor Sandip Joshi was equally appreciative of the concept and promised his support in the upcoming editions. The Nagpur Dialogue is a brainchild of Malhar Deshpande, the Co-founder of The Six Senses along with Bhushan Sahasrabuddhe. Vilas Kale, Director of Provincial Group & former President of VED Council and CA Shivkumar Rao, Director - R&Y Logistics & President of VED Council have mentored this initiative. Atul Goel of Goel Ganga Group supported the initiative.
Malhar Deshpande said, "The Nagpur Dialogue is a platform, a series of events which encompass the development happening in Nagpur in different sectors." "It's the only holistics approach taken thus far to bring forward the positive stories, potential, possibililities and opportunities in Nagpur in various sectors," he said. Distinguished leaders and domain experts belonging to different sectors come together on a platform to share their vision, and discuss the opportunities, possibilities with the citizens, stakeholders. Youngsters, citizens of all ages and concerned stakeholders have made this unique concept a super success.