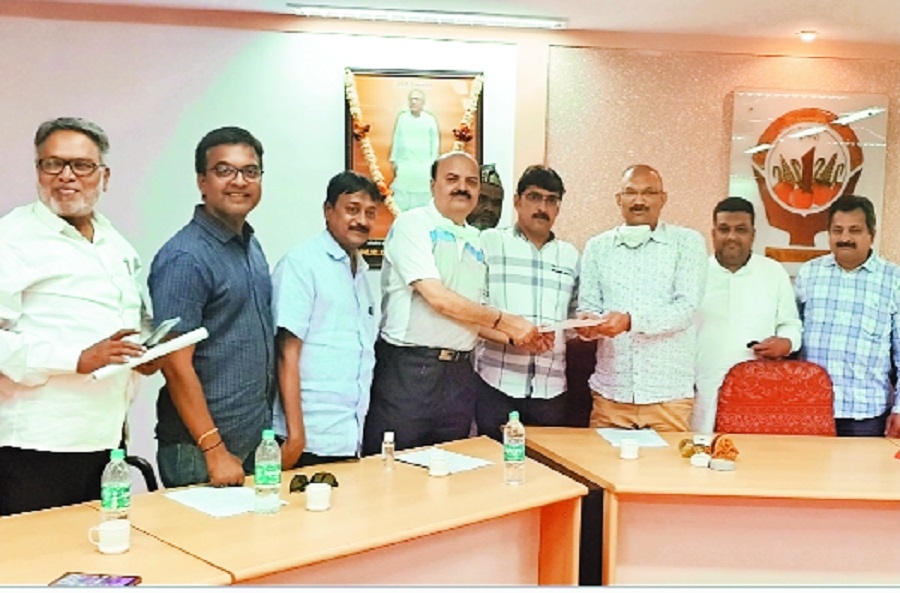 Pratap Motwani, Rajesh Chhabrani, Atul Senad, Gopal Kalamkar, Mohd Afzal, Amol Gulwade and Taslimbhai giving memorandum to Rajesh Bhusari, Secretary of APMC.
Business Bureau :
On the directives of the Government, Rajesh Bhusari, Secretary of Agriculture Produce Market Committee (APMC), Nagpur conducted emergency meeting with representative of all the trade associations. He alerted traders, farmers and labourers about the COVID-19. He told them to do trading and working activities by adopting safety measures.
Present in the meeting were Pratap Motwani, Secretary of The Wholesale Grain and Seed Merchants Association, Rajesh Chhabrani, former Director of APMC, Atul Senad, Gopal Kalamkar of Grain Market, Mohd Afzal of Aaloo Kanda Market, Amol Gulwade, Taslimbhai of Fruit Market, Kanhaiyalal Chawla of Mirchi Market and others. Pratap Motwani appealed Rajesh Bhusari to keep maintain cleanliness in the market. APMC should clean the market with phenyl and detol. It shoud provide mask and sanitiser to traders, workers and farmers in the marketyard. Rajesh Chhabrani and Atul Senad also gave valuable suggestions to Rajesh Bhusari.
All the representatives of the trade association in the APMC Kalamna Marketyard gave memorandum to Rajesh Bhusari. Bhusari also requested the traders to do business by paying heed towards the cleanliness in the market. He said, APMC will appoint an agency to maintain cleanliness in the marketyard and protect traders from pandemic of Coronavirus. Pratap Motwani proposed vote of thanks and appealed all to do trade by wearing mask and wash hands with sanitiser. Sudhir Madavi of APMC, R T Raut and traders Awesh Shukla, Dipak Sancheti, Pandari Mundle, Ramdas Gajpure, Kallubhai, Vinod Lokhande, Shafi Sheikh and others.