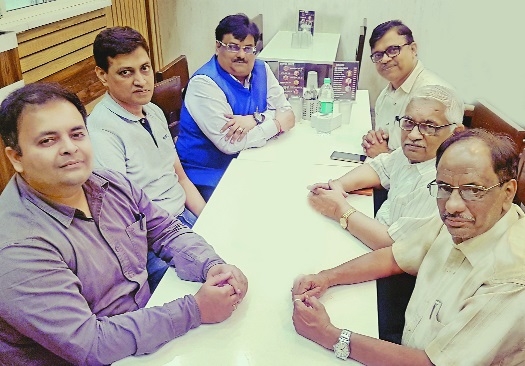 Business Bureau :
IN AN appeal to State and Union Government the Chamber of Small Industry Associations (COSIA), Vidarbha Chapter requested them to differ the annual tax return compliances atleast by two months. This was recently stated in a meeting by COSIA's Vidarbha Chapter Chairman Mayank Shukla. He said as the pandemic COVID-19 has engulfed the entire world and taken a toll of thousands of people and millions suffering from this dreaded and contagious disease. It has not spared our country from its jaws. Government's vigorous actions and preventive steps have curbed its fast spread, which has got a loud applause from every corner of the world.
"The aggressive and essential steps has brought economic activity to a standstill and created panic amongst the people," he said. Although, Government has been forced to take these drastic steps to curb the outbreak of this dreaded disease, it has added to the misery of traders, industries and in particular those under MSME sector who are passing through a very tough period because of economic slowdown in the country, Shukla added. Vice-Chairman COSIA Vidarbha Chapter CA Julfesh Shah said that in the current scenario there is very slow movement of goods and production is suffering because of various hindrances. The funds flow are stuck up, markets are sluggish, banking activities are at slow pace and an individual is under mental trauma.
Under such circumstances when the entire world has come to a grinding halt, how can one be expected to keep cool and meet statutory compliance of Government's direct and indirect tax returns. The contributions of this community i.e., traders and industrialists cannot be ignored as they are the revenue generators for Government's various ambitious projects and social welfare schemes for the benefit of general masses. "Therefore, their woes should also be considered sympathetically when they are in need. With major economies of the world slipping into a 'near-halt' due to pandemic coronavirus, exporters find themselves in a state of turmoil as trade in the country's top destinations is paralysed, making it imperative for urgent relief measures for the exporting industries," added CA Julfesh Shah.
The US, UAE, Germany, UK, Singapore, Italy and China among others, are the largest contributors to the country's basket of merchandise exports. Trade is crippled in most of these destinations due to a near collapse of global supply chain even as the cargo movement has stopped. The warehousing capacity is over-stretched with severe blocking of export finance. The international shipping lines are affected too.