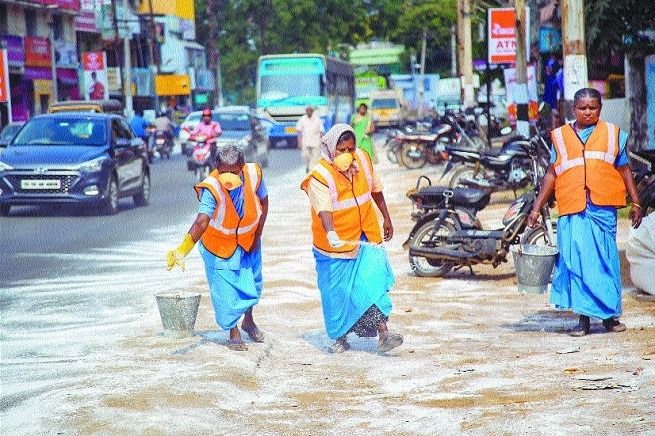 Workers spray disinfectants on a road in the wake of coronavirus pandemic at Nagercoil town of Kanyakumari district on Friday. (PTI)
NEW DELHI :
UNION Health Minister Harsh Vardhan on Friday said coronavirus infections have not reached the "community level" and asserted the Government is trying to use "good information" in the best manner to deal with the situation. "We are in touch with everything going on the research front," he said. The Minister told Lok Sabha that there is a well-defined protocol and scientific advice on who needs to be tested for the coronavirus infection. Measures have been taken for detailed tracing of contacts and that the ICMR (Indian Council for Medical Research) is conducting tests, he said.
He also said that the coronavirus infection has not reached "community level". "We are trying to use good information... For best use of our country," Vardhan said during the Question Hour about the fight against the coronavirus outbreak. Noting that the Government is in regular contact with the World Health Organisation (WHO), the Minister said that as per information available, "I don't think there is any need for apprehensions".
The response was to a query by Congress leader Manish Tewari on whether the Government would be talking to WHO in order to look into the origin of the coronavirus. Parliamentarians doing duty to nation: Goyal: THE Rajya Sabha on Friday passed a resolution expressing confidence in Prime Minister Narendra Modi and solidarity with steps being taken by the Government to combat coronavirus. Members of the Upper House pledged their support to the Government in containing the spread of the virus. Railway Minister Piyush Goyal said the Government was leading by example in running Parliament so that the Budget is passed and also giving a message to masses that MPs were performing their duties towards the country.