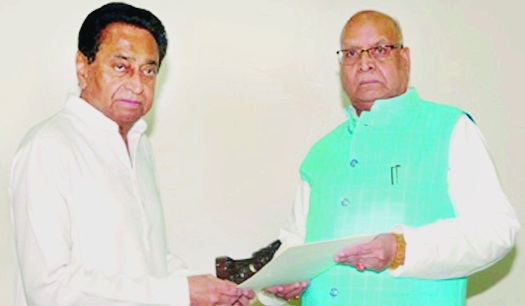 Staff Reporter
Bhopal,
Jubilant BJP starts preparations to stake claim to form Government in MP
Mar 20 A day after the Supreme Court ordered Kamal Nath Government to go for floor test to prove majority by 5 pm on Friday, Chief Minister Kamal Nath resigned on Friday afternoon. The Kamal Nath Government shied away from floor test as it did not have adequate number of MLAs to prove majority in House. With this, now the BJP has started preparations to stake claim to form Government. Addressing the press conference to announce his resignation at CM House at 12 noon, Chief Minister Kamal Nath said that in 15-month rule of Congress Government, he tried to give new direction to Madhya Pradesh but the BJP did not like it. "In fifteen months, BJP did not appreciate development works done by his Government. It was from the first day of Congress Government formation that BJP started to hatch conspiracies to destablise his Government.
What was my fault and mistake?" an emotionally charged Kamal Nath asked. Targetting Jyotiraditya Scindia, he said that the BJP killed democratic values by hatching conspiracy along with highly ambitious, power-hungry 'Maharaj' and 22 greedy MLAs. He added that people of the State will never forgive these greedy rebels. He added that people had given chance of 5 years to him to bring State on right path. Talking about BJP's conspiracies against his Government and hinting at Scindia, he stated, it's betrayal with people of Madhya Pradesh. Trying to remain positive, he said that the BJP got 15 years to rule the State and his government was granted only 15 months and not even a single scam or allegation has been levelled against his Government.
On the other hand, the BJP was afraid that Congress Government may open scams like e-tender, Vyapam, Bundelkhand package, Narmada plantation etc, Nath said. Likewise, Congress Government also carried out campaign against mafia and adulterators and owing to this BJP became perturbed. He alleged that 22 Congress MLAs were whisked away to Karnataka and kept captive and temptation of crores of rupees was given to them. Mincing no words in criticising the BJP, he said that the BJP thinks that it could win by defeating my State. "Neither it can defeat my State nor my courage. As much conspiracy they hatch, more stronger my faith will be……After today, tomorrow will also come."
He further said that the BJP was afraid that if he changed the face of Madhya Pradesh, the party will get wiped out. Recalling various works of his Government, Kamal Nath said that the BJP did not like works done by his Government to take Madhya Pradesh on right path, to increase OBC quota from 14 to 27 per cent, drive against adulterators and mafia, etc. He also shed light on works like Ram Van Path Gaman, constructing Sita temple in Sri Lanka, waiving loan of 20 lakh farmers etc. "The money minted by criminal elements and corrupt people was used by BJP to hatch conspiracy to bring down my Government," an angry Kamal Nath charged. Congress Govt collapsed due to internal fighting: Chouhan: Former Chief Minister Shivraj Singh Chouhan said that the Congress Government headed by Kamal Nath collapsed due to its internal problems and the BJP has nothing to do with the development.
Chouhan was speaking to media persons at the BJP headquarters after downfall of Congress government in the State. Chouhan said that BJP will never try to bring down any government. Due to internal fighting, Congress Government collapsed and such situation arose due to Digvijay Singh. He also said that situation became so explosive that every Congressman had become worried. On asking who will be the CM candidate of BJP, he said that whatever party will decide will be accepted. BJP State President V D Sharma said that Madhya Pradesh was destroyed during Congress rule. Everywhere anarchy prevailed. "Today Congress was supposed to face floor test but it beat a hasty retreat. Our MLAs went to Assembly but Congress MLAs did not come," he said. Leader of the Opposition Gopal Bhargava commented that now the haze has become clear.