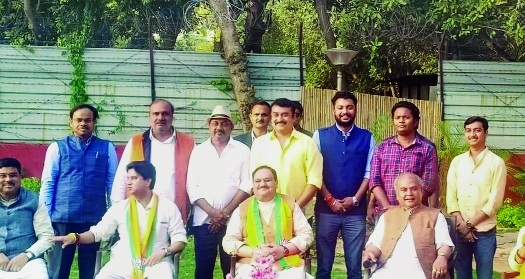 Ex-MLAs from Jyotiraditya Scindia camp joining BJP in presence of BJP National President J P Nadda in New Delhi on Saturday
Staff Reporter :
Bhopal, The rebel ex-MLAs from Jyotiraditya Scindia camp joined the Bharatiya Janata Party in presence of BJP National President J P Nadda in New Delhi on Saturday. On this occasion, Jyotiraditya Scindia was also present. Total 22 ex-MLAs, 16 from Scindia camp, had resigned which resulted into collapse of Kamal Nath government. BJP National President J P Nadda gave membership to them. Union Minister Narendra Singh Tomar, BJP National General Secretary Kailash Vijayvargiya and others were present when Scindia supporters joined the BJP.
The names of Scindia supporters who joined BJP are ex-Ministers Tulsiram Silawat, Mahendra Singh Sisodia, Imarti Devi, Pradhyuman Singh Tomar, Prabhuram Chaudhary, Govind Singh Rajput. Besides, others who joined BJP are Hardip Singh Dung, Aidal Singh, Raghuraj Kansana, Manoj Chaudhary, OPS Bhadoria etc. After joining BJP, all these leaders left Delhi for Bhopal. All these former elected representatives have rebelled against then Kamal Nath Government after their leader Jyotiraditya Scindia crossed over to BJP as he was feeling neglected in Congress.
Congress tried all efforts to convince all these leaders who were kept in a hotel of Bengaluru but to no avail. Even Digvijay Singh reached Bengaluru along with many ministers but these leaders refused to come out of hotel to meet him. Finally, Congress Government came in minority and BJP started to demand for floor test of Kamal Nath Government. when Kamal Nath Government shied away from floor test even ignoring the advice of Governor, BJP went to Apex Court which ordered for floor test on Friday. Instead of facing floor test, Kamal Nath resigned on Friday noon, thus paving the way for formation of BJP government again in Madhya Pradesh.