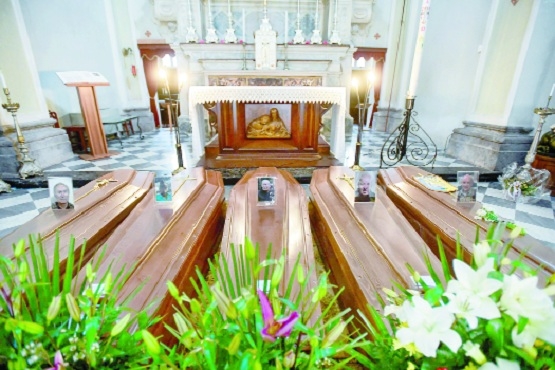 Coffins kept on the ground of the church in Serina, near Bergamo, northern Italy on Saturday. (AFP)
PARIS :
THE number of novel coronavirus cases globally stood at 308,130 with 13,444 deaths, across 170 countries and territories at 1100 GMT on Sunday, according to a tally compiled by AFP from official sources. Since 1900 GMT on Saturday, there were 1,702 new deaths reported and 28,674 new cases globally. The tallies, using data collected by AFP offices from national authorities and information from the World Health Organisation (WHO), likely reflect only a fraction of the actual number of infections, with many countries now only testing cases that require hospitalisation.
China -- excluding Hong Kong and Macau -- where the outbreak emerged in December, has to date declared 81,054 cases, including 3,261 deaths, with 72,244 people recovered. The country declared 46 new cases and six new fatalities since Saturday. Italy's world-topping toll from the coronavirus pandemic approached 5,500 on Sunday after the Mediterranean country reported another 651 deaths. The third worst-hit country is Spain with 1,720 fatalities and 28,572 cases, Iran with 1,685 fatalities and 21,638 cases, followed by France with 562 deaths and 14,459 cases, and the United States with 340 deaths and 26,747 cases. Since 1900 GMT Saturday, Kosovo, Colombia, The Democratic Republic of Congo, Romania, Chile and Cyprus announced their first deaths. Angola, Gaza, East Timor, Uganda and Eritrea announced their first cases. Countries in Asia now worry infections could once again mount on their shores as travellers return from badly-hit parts of Europe, a continent under siege by the pandemic, with more than 1,50,000 declared cases.
Italy has now reported more deaths than mainland China and third-placed Iran combined, and it has a death rate of 8.6 per cent among confirmed COVID-19 infections -- significantly higher than in most other countries. The death toll in the Mediterranean nation of 60 million spiked to more than 4,800 -- over a third of the global total. Lockdown measures have done little to stem new infections and deaths and the government announced the closure of all non-essential factories in a late-night TV address. In his weekly prayer -- now being streamed live to avoid crowds gathering -- the Pope urged all Italians to follow isolation measures.
Similar shut-in measures have been rolled out in badly-hit Spain and France, where helicopters and drones were being deployed to ensure crowds do not gather in parks or along river banks. Spain saw a sharp spike in deaths again Sunday -- a 30 per cent rise bringing total fatalities to 1,720 -- while France saw its death toll mount to 562 on Saturday. Britain is also ramping up its response in the wake of steadily rising cases and deaths after the government was criticised for failing to take stricter measures sooner. China reported its first local infection in four days on Sunday. Thailand reported its highest daily rise in cases, taking its total to nearly 600, while Singapore, Hong Kong and Malaysia have also reported a spike in cases after numbers had plateaued earlier.
Tighter restrictions are now in place elsewhere in Asia, with Australia shutting its borders to foreigners and non-residents and Pakistan suspending international flights. More than a third of Americans were meanwhile adjusting to life in various phases of lockdown, including in New York, Chicago and Los Angeles. Other parts of the United States are expected to ramp up restrictions as well. The coronavirus has infected more than 1,100 across Africa too. The Middle East also remains on high alert, where Iran -- which suffered a major outbreak -- reported 129 deaths on Sunday. But the Islamic Republic has refused to join the rest of the world in imposing heavy restrictions. Iraq on Sunday imposed a total nationwide lockdown until March 28
SAARC Disaster Management Centre launches website to share virus info
NEW DELHI :
THE SAARC Disaster Management Centre has launched a website for information related to the coronavirus pandemic in the region as proposed by Prime Minister Narendra Modi during the recent video conference with leaders and representatives of the member states. The website shows the number of coronavirus cases in the member states, updating the numbers regularly. It shows that at least 960 coronavirus cases have been reported in the SAARC region with maximum from Pakistan (495), followed by India (324), Sri Lanka (77), Afghanistan (24), Bangladesh (24), Maldives (13), Bhutan (2) and Nepal (1). The website says that at least 5 people have lost their lives due to COVID-19 in India, three in Pakistan, while two died in Bangladesh.