With bells and claps, Bollywood expresses gratitude to essential service providers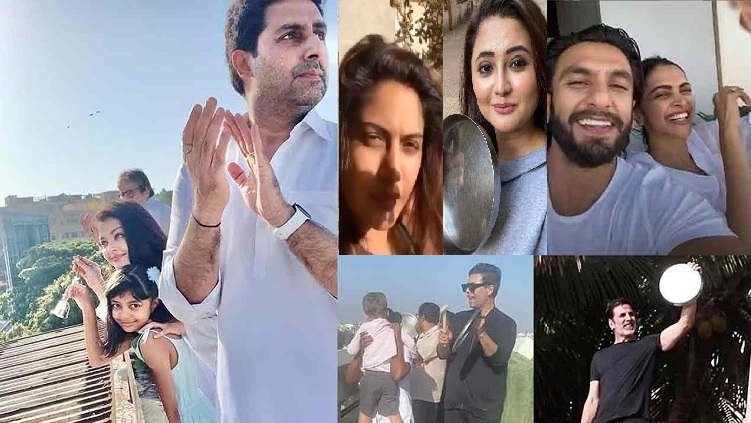 MUMBAI :
PROMINENT Bollywood personalities such as Lata Mangeshkar, Amitabh Bachchan, Akshay Kumar and Karan Johar on Sunday came out on their balconies as part of PM Narendra Modi's Janata Curfew initiative to give a shout-out to people who have been providing medical and other essential services during the ongoing coronavirus pandemic. In his call for Janata Curfew, the Prime Minister had also said that at 5pm Sunday, state authorities will, through a siren, alert people to come out to their doorsteps or balconies to express gratitude to those who have been providing essential services during this crisis.
Modi urged to people to clap, ring bells or bang utensils for five minutes to show their appreciation. Mangeshkar, who was one of the first celebrities to tweet her gratitude, said this post was for all the selfless people protecting the citizens of this country amid coronavirus outbreak.
"Namaskar. I express my gratitude and salute to all the selfless people protecting us like our doctors, nurses, hospital staff and our police, municipal corporation employees and our able government," the legendary singer said. Calling the Janata Curfew an "unbelievable success", Bachchan said India has created history. "... And at 5 pm .. The entire country on their balconies roof tops gates and doors applauding the true heroes of the Nation .. NEVER SEEN ANYTHING LIKE THIS! I AM PROUD TO BE AN INDIAN JAI HIND," he tweeted. Akshay shared a video of him with his neighbours actor Hrithik Roshan and filmmaker Sajid Nadiadwala clanging bells outside his house near the beach. "5mins at 5pm :With my neighbours, taking a moment to appreciate those who do not have this luxury of staying at home & working tirelessly to keep us safe.
Thank you to all the essential service providers for your selfless work #JanataCurfew #BreakCorona @iHrithik #SajidNadiadwala," the actor captioned the video. His "Sooryavanshi" co-star Ranveer Singh also shared a photo of his wife, actor Deepika Padukone standing in their balcony, clapping to say "thank you to our heroes". Producer Karan Johar posted a video on Instagram showing his family celebrate "the unity of spirit and resilience".