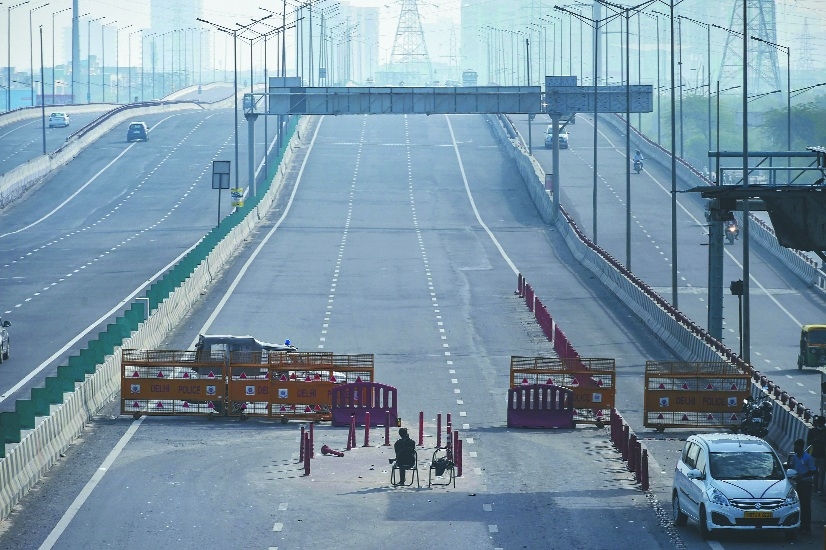 Barricades are seen on Delhi-Ghaziabad border after lockdown in New Delhi on Monday. Delhi will be locked down from March 23 to March 31, till midnight due to the coronavirus outbreak and Delhi's borders will remain sealed during the period. (PTI)
By Jayant K Singh :
NEW DELHI,
THE lockdown declared by the Delhi Government following the coronavirus scare has no meaning for people in Outer Delhi as they are violating the norms in areas such as Nangloi, Paschim Vihar, Vikaspuri, Mundka, Peeragadhi, Janakpuri and Tilaknagar without any fear. In the lockdown situation only the shops that sell essential goods are allowed to open, but here in Outer Delhi, salons, vehicle mechanics and paan shops have been opened since morning.
Moreover, e-rickshaws and gramin sewa tempos were seen plying on road without any hesitation, while Chief Minister Arvind Kejriwal in the press conference on Sunday had clearly stated that these things will be completely banned. The biggest exaggeration was seen when a policeman, riding in an e-rickshaw, was seen heading towards the ring road from Jwala Heri market. When asked by IANS why he was riding an e-rickshaw despite the ban, he said that he had to go on duty but there are only a few buses running on roads. In such a situation, he has no other option.
The most surprising thing is that whether it is e-rickshaw or gramin sewa, they were packed with passengers. Shockingly, only a quarter of the riders were seen wearing masks. Some gramin sewa drivers were also seen opting for internal routes to escape lockdown and earn money. The police, however, are monitoring the situation on main routes but they can't even stop these vehicles inside the colonies. A Reliance Fresh's store in Syed village of Nangloi was full of customers and they were seen pushing each others to purchase the goods.