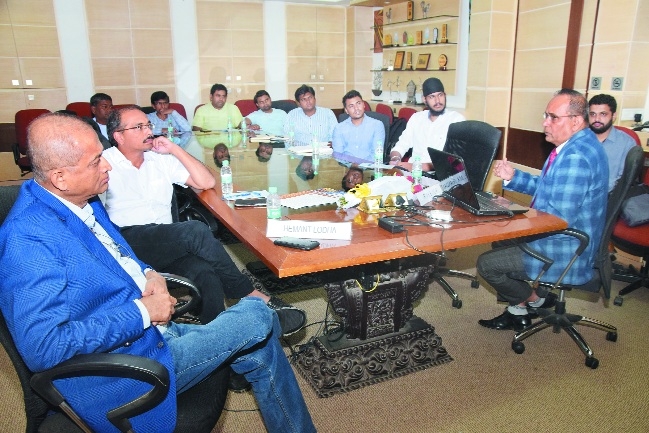 Prof M K Bhandari addressing the VIA members at the workshop.
Business Bureau :
Prof M K Bhandari, a Senior Professor of Law in India and currently CEO of Infinity Law -Tech Educational Services- Hyderabad conducted the workshop. He explained the fundamentals of Blockchain technology and its increasing application in governance, land record maintenance, health care, trade, industry, smart contracts; promotion of clean energy supply and protection of human rights. He also shared the global trends and policy as well as regulatory trends in India and other countries related to the topic. Professor Bhandari further shared the latest developments in the ongoing litigation between Crypto Exchanges and the Reserve Bank of India (RBI).
He was of the opinion that the RBI and the Ministry of Finance should come out with a clear policy with positive mind set. According to him the Crypto should be treated as assets and not currency. During discussions on regulatory framework, he advocated for global policy and Legal Framework for Blockchain and Fintech. He cited the example of Trade Related Intellectual Property Rights (TRIPS) Treaty made under the umbrella of World Trade Organisation (WTO).
Dealing with the role of technology in delivery of financial services - popularly known as FINTECH, Prof Bhandari appreciated the initiative of Government of India in launching and encouraging digital banking and digital payments. But looking to vast potential of the FINTECH, Bhandari urged the Government to make India as FINTECH hub, one like Singapore. He lauded the Prime Minister and Finance Minister's 'S' initiative in boosting technology adoption and making dedicated fund allocation for research and adoption of technology for Start-ups.
Delegates actively participated in the discussions and also made certain suggestions for future development in India. Earlier, CA Hemant Lodha, Chairman of HRD Forum welcomed Prof Bhandari with floral bouquet and briefed about the concept of Blockchain technology. Industry representatives from SMS Group, Solar Industries India Ltd, Nagpur; Mahalaxmi Coal Pvt Ltd., Global Logistics and Government College of Engineering attended the workshop.