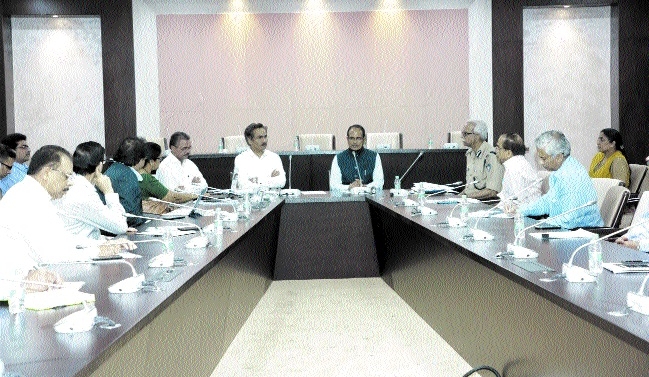 Staff Reporter :
Instructions to impose curfew in Shivpuri
Chief Minister Shivraj Singh Chouhan conducted a detailed review of measures to prevent the spread of coronavirus in the state for the second day in Mantralaya here on Tuesday. During the review, it was told that one case was found positive in Gwalior and one in Shivpuri. Taking this seriously, Chouhan instructed to impose curfew in Shivpuri as well.
He said that it is necessary to break the chain to prevent the spread of corona. Chouhan said that its spread will have to be stopped at all costs due to local infection. He said that there is no need to panic. It can be controlled only with the co-operation of all. The Chief Minister said that action should be taken against those spreading rumours and unscientific information regarding corona. The staff working in call centres has been given instructions to provide accurate information to the people. He has also urged the media to co-operate in the dissemination of scientific information among the people to prevent the spread of corona. He has also asked the staff available in private hospitals working in the field of medical services to co-operate. He said that intensive investigation must be conducted of national parks, foreign guests who have returned after visiting tourist spots.
It was informed in the review meeting that Bhopal Memorial Hospital and Research Centre has been declared as state level COVID-19 Institute. A total of nine positive cases have been detected so far. These cases are in four districts. Curfew has been declared already in Gwalior, Bhopal and Jabalpur. A total of 26 cases have been sent for test and 1920 are being monitored. Door-to-door investigation and monitoring is being conducted in the urban areas in the districts where foreign nationals had come. .
The Chief Minister directed to immediately separate such probable houses and areas so that no one residing there would come in contact with anyone else. Ten distilleries have been asked to make sanitizers so that they are easily available locally. A gap of about one metre was maintained in the seating arrangement of all officers during the meeting as per medical advice. Chief Secretary Iqbal Singh Bains, Director General of Police Vivek Johri and additional chief secretaries and principal secretaries of all concerned departments were present.