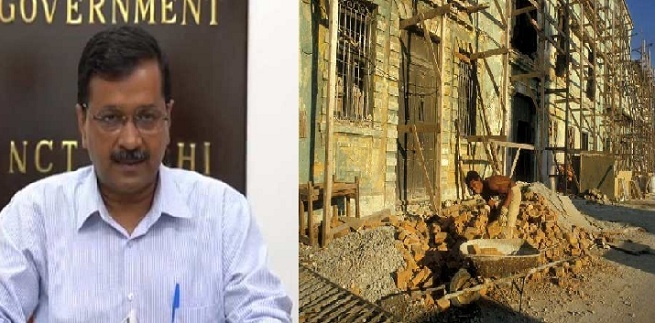 NEW DELHI :
DELHI Chief Minister Arvind Kejriwal on Tuesday announced that his Government would give Rs 5,000 to each construction worker in the wake of the coronavirus outbreak and constituted a five-member doctors' panel to prepare a plan to deal with situation if the national capital enters stage 3 of COVID-19. Addressing a press conference, Kejriwal said that the livelihood of construction workers has been affected due to coronavirus as the city has gone under lockdown since Monday.
Prime Minister Narendra Modi addressed the nation at 8 pm and announced a 21-day countrywide lockdown from midnight. According to an official, the Delhi Government's move will benefit around 46,000 construction workers who are registered with the Construction Workers Welfare Board Fund. Kejriwal said no new case of coronavirus has been reported in Delhi in the past 40 hours, and the earlier number of virus-infected patients has also gone down from 30 to 23. He said it was good that some patients have recovered but cautioned about a long battle ahead against the deadly virus. He appealed to the people to help each other in these difficult times.
He said people should not discriminate against and harass those professionals such as doctors, nurses, pilots and air hostesses who are extending help in this fight against the virus. Kejriwal said he has received complaints in many places in Delhi that these great people are facing discrimination, which is unacceptable. "If anyone is affected by coronavirus, it is our responsibility to do their treatment so that they can recover fast but if they are not affected then they should not face any kind of discrimination," he said.