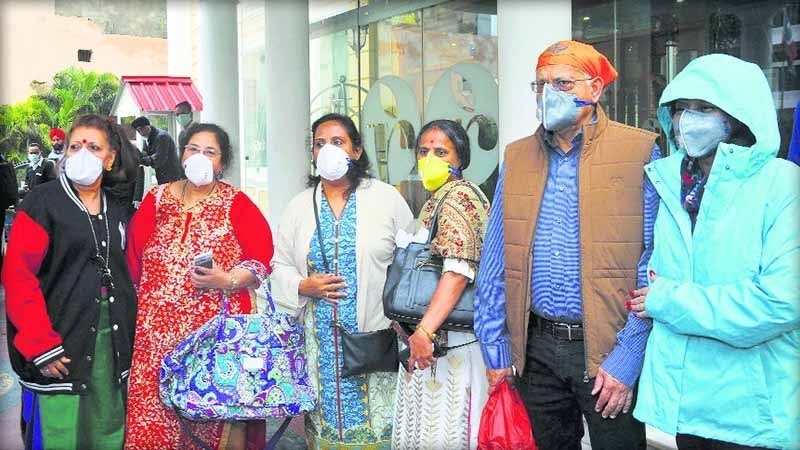 By Vishal Gulati :
"We are setting up ICUS, isolation wards, etc. We require more specialists, intensivists, anesthetists, pulmonologists, doctors and nurses," Minister said.
CM Amarinder Singh has already appealed to NRIs to stay at their homes and avoid large gatherings.
THE landing of no less than 90,000 NRIs in Punjab in just about a month have left the health authorities apprehensive about coronavirus takeoff in the State. Sensing pandemic-like situation could trigger, State Health Minister Balbir Singh Sidhu has alerted his counterpart and Union Minister Harsh Vardhan, categorically by writing a letter that said "many of them (NRIs) have symptoms of COVID-19".
With the coronavirus cases spiking to 23 and death of an elderly man who recently returned from Germany via Italy and left behind a trail of 15 cases, Chief Minister Amarinder Singh on Monday announced a statewide curfew with no relaxations. Punjab was the first State to imposed the curfew to prevent the further transmission of the virus. The letter by the Health Minister says, "To meet the urgent demands and rise to the occasion to defeat the disease, Punjab requires additional funds of minimum Rs 150 crore from the Government of India."
"This is of utmost importance and as promised by the Government of India, this amount be released at the earliest to strengthen the State medicals services," he wrote. Appending fears of an alarming rise in number of cases, Sidhu said the state has stringent plans up to grassroots. "We are setting up ICUS, isolation wards, etc.
We require more extra manpower, specialists, intensivists, anesthetists, pulmonologists, doctors and nurses. We also require medicines, logistics, ventilators and many other items," the State Minister said. Chief Minister Amarinder Singh has already appealed to non-resident Indians (NRIs to stay at their homes and avoid large gatherings. The appeal came after three positive cases had travel history to other countries. He asked them to get themselves examined at the nearby hospitals, if they have any symptoms. He said negligence on their part could threaten the lives of others. In Punjab, the dollar-rich Doaba belt comprising Jalandhar, Kapurthala and Nawanshahr districts is turning out to be the hub of the positive cases. Each house in almost every town and village has a family member who is settled abroad, largely in Western and European countries.
Out of the 23 positive cases, 15 alone are from Nawanshahr, now named Shaheed Bhagat Singh Nagar. A 69-year-old Mohali woman, who tested positive last week, is based in Britain for three decades. She has been booked for leaving the hospital against the doctor's advice after giving samples. After her test results came positive, health authorities reached her house, but she refused to return to the hospital. Finally, the police were called and she along with her family was taken to the civil hospital. Officials told IANS that so many instances have been coming up where the NRIs are adhering to home isolation advice and mingling frequently with the family members and friends. Adopting tough posture despite appealing to the people to voluntarily adhere to the curfew, Chief Minister Amarinder Singh has warned of strict action against any violation of the curfew imposed "in the larger interest of the State".
In a video message address to the people, the Chief Minister said he was forced to take this extreme step "in the interest of the State". and in the interest of all of you", as he had received reports that people were moving around normally in towns, localities and cities despite the lockdown that became effective this (Monday) morning. Appealing to the people for cooperation, Amarinder Singh said the violation of the lockdown by the people was "unacceptable" and it was the responsibility of his Government, and his duty as its head, to "save Punjab". Difficult decisions need to be taken in difficult times, said the Chief Minister, adding it had become necessary to impose and enforce the curfew to survive these tough times.
"Please listen to me, and bear with me," he appealed to the people, emphasising that "we must work shoulder to shoulder to fend off the crisis we are all facing". "We must save our State, our people; we have children, families," said Amarinder Singh, adding as a small state, it was all the more reason for Punjab to take all possible steps "to preserve our population and ensure that everyone lives happily for years to come".