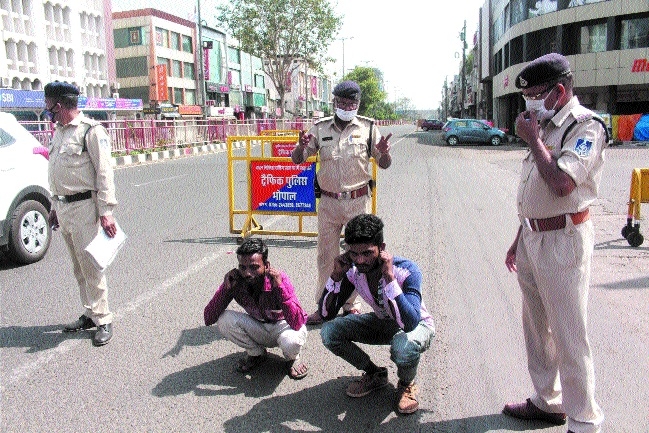 Staff Reporter :
City's usually teeming streets and bustling landmarks came to a standstill on Tuesday after curfew has been imposed in the city by district administration to temper coronavirus epidemic that has spiralled into one of the worst in the world. Barring emergency services, the State-run hospitals also did not entertain any visitors. The Police Department on the other hand has deployed extra force on the roads to ensure no one is found on the roads. However, there were some people still venturing out on streets from their houses who were made to do sit-ups and there are a few who landed in jail as they were booked under Section 188 of the IPC (violation of duly order promulgated by government officer.
The policemen were questioning the reason, the visitors about the reason and if not satisfied then the people were also beaten up with sticks. The Bhopal Municipal Corporation (BMC) on the other hand also distributed food packets to the road side beggars at Yaadgar-e-Shahjahani Park and in the areas of ISBT and Nadra bus stand on Tuesday.
The impact of the curfew in Bhopal was witnessed in the city for the entire day. No area of Bhopal had any movement and the residents kept themselves locked inside their homes. The areas with the heaviest vehicular movements around too were having no vehicles around. The bus stands; the railway stations, Boat Club, VIP road, Hoshangabad road, Nadra bus stand, old city markets like the Chowk Bazar and Jumerati, new market or even the markets Kolar and other areas were totally empty. Even the religious places were kept closed for the day and the devotees too refrained from setting out. The top officials including the Collector Tarun Pithode, DIG Irshad Wali and BMC Commissioner Vijay Dutta themselves monitored the situation in Bhopal.