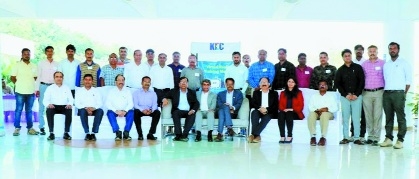 Business Bureau :
KEC International Ltd (KEC), a global infrastructure EPC major and an RPG Group company conducted a two- day safety training for the employees of PowerGrid at KEC's state-of-the-art training center at Nagpur. The objective of the training was to strengthen awareness and build a culture of safety at the grass-root level. The safety training was curated especially for engineers and supervisors on critical safety parameters as per the existing, best-in-class, international safety practices followed at KEC. The training included the understanding behavioural concepts and mindset towards safety, hazards associated with working-at-height, electrical safety, material handling, tools and plants handling and adoption of mechanisation in transmission line construction.
The programme was inaugurated by Nandkishore Odhar, Executive Director of PowerGrid. Brijesh Mathur, Vice-President of EHS, KEC International, Rahul Shankar, General Manger (HR) of KEC International Limited and several senior leaders from PGCIL and KEC were also present. Speaking on the occasion, Nandkishore Odhar said "Safety is very important and we are responsible for safety of employees and colleagues working with us. It is must to create a safe working environment and hence I urge you to leverage the learning imparted in two-day training by KEC. KEC has always demonstrated contemporary safety practices and I appreciate the initiative taken by them on safety."
Brijesh Mathur said, "We have designed programme based on KEC's best safety practices specific to working-at-height and other safety hazards in the T&D industry. We are happy that we have collaborated with PGCIL in educating site engineers spread across multiple regions/terrains. Our functional safety experts delivered this programme on six critical topics." Rahul Shankar proposed the vote of thanks. KEC is deeply committed towards building a sustainable world for its stakeholders.