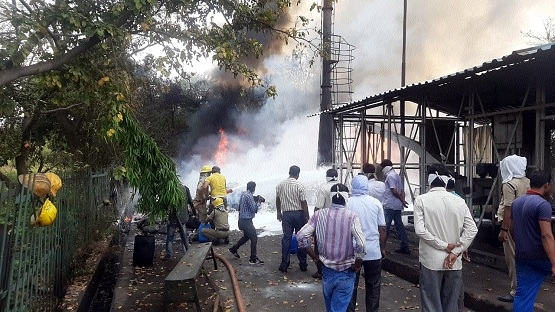 Staff Reporter :
RAIPUR,
A major fire incident was averted at Diesel Loco Shed (DLS) located at Wagon Repair Shop on Wednesday. The fire was doused within half-an-hour and no loss of valuables has been reported so far. As per information received from Divisional Security Commissioner, Anurag Meena, the incident took place at Eco Friendly DLS at about 1:10 pm.
Fire was caught on used oily jute waste materials kept for disposing off. The cause of fire could not be known immediately. Staff working at the DLS noticed smoke and reported the matter to senior officers. Soon fire brigade office was contacted and at 1:45 pm fire fighting vehicle and five fighters reached the spot to douse the fire.
It took about half an hour to completely douse the fire. DSC further informed that the area is about one kilometer away from Railway Colony and is located in isolated place where no valuable objects were engulfed in fire. Due to eco friendly design of DLS the fire could not spread. All the staffs working in DLS assembled at the place with face covered. However, no loss has been reported. Police from Khamtarai Police Station and O P Verma, Sub Inspector of Railway Protection Force and Head constable, S K Dubey had also reached the spot. Senior Railway Officials also visited the spot at DLS.