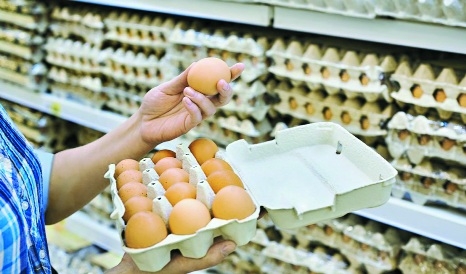 THE supply of eggs has come down by half of what it was earlier due to the lockdown clamped by the Government to constrain the coronavirus pandemic. This has lifted the prices in the wholesale market. The prices of eggs have climbed up and are being quoted in the range of Rs 350 per hundred to Rs 380 per hundred, compared to a low of Rs 200 per hundred in the wholesale market about 8 to 10 days ago. This was disclosed by Moiz Burhani of Vidarbha Eggs and President of Mahatma Phule General Merchants Welfare Association while speaking to The Hitavada.
He further said that the supply line of eggs had been affected after the Prime Minister declared 21 days lockdown in the country. The movement of trucks carrying essential items like eggs has become difficult especially at the State borders. It has been observed that truck drivers are facing lot of difficulties and are not being allowed to cross the State border. Majority of time gets consumed in completing various formalities at the State borders.
On daily basis, about 4 to 5 trucks are unloading eggs at the Mahatma Phule Wholesale Market popularly known as Cotton Market in the city. Earlier, more than 8 trucks to 10 trucks used to arrive daily in the market. One truck has capacity to carry 1.20 lakh eggs. The eggs are brought from various centres situated in Andhra Pradesh and Telangana, he said.
After the imposition of lockdown, the demand has dropped by 30 per cent as several hotels and restaurants have been closed. Home delivery operators like Swiggy and Zomato too have stopped movement. The egg which is considered as nutritious food is available at the shops in the wholesale market from 8 am to 8 pm. It is seen that health conscious people are buying more eggs during lockdown period as it increases the immunity to fight coronavirus, Burhani added.