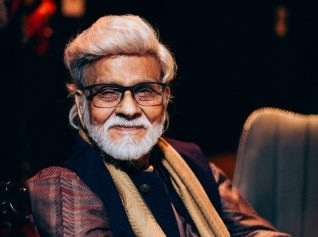 LEGEND has it that a foreign professional body acknowledged his greatness when a native body found it difficult to grant him membership since he did not have an official certificate as an architect -- at least initially. This anecdotal corollary sums up the achievement of Mr. Satish Gujral as a world-renowned architect who designed some of the finest structures granting him an iconic reputation. However, in the passing away of Mr. Satish Gujral at a ripe age of 94 years of stupendous achievements, the world has not lost just an architect of rare renown, but also has lost a painter, sculptor, muralist and graphic artist -- all rolled into one. The greatness of Mr. Gujral gets highlighted all the more when one learns about a severe personal handicap that hit him when he was just eight years old in a swimming accident.
With speech and hearing impaired to a big measure, he fought back his limitations to earn acclaim in whatever he chose to do. One of the iconic structures designed by him is the Embassy of Belgium in New Delhi, for example, a task that came to him after he won a global designing contest. But subsequent architectural work by him, that included palaces for royals, only kept adding finer nuances to his personality, making him a legend in his own lifetime. Mr. Satish Gujral had seeds of achievement in his genes -- with his brother Mr. Inder Kumar Gujral having risen to be India's Prime Minister.
Having been born in undivided India, he started his life haltingly in the emerging country. Opportunities beckoned everybody, but there were not many like Mr. Satish Gujral to pick those up to add a definitive artistic facet to India's public persona. Turbulence of early days after Independence influenced his art when India was struggling to find feet in its truncated geography assailed by violence and political uncertainty. But the speciality of Mr. Gujral's grooming was that he looked for the sublime in the grime of the confused narrative of the time in the Indian subcontinent. The structures he designed demonstrated his search for something transcendental, using space as a component of human imagination. The exhibitions of his works often fetched Mr. Satish Gujral accolades of rare intensity as the connoisseurs found unusual freshness and thrust of human urges in his expression.
Naturally, honours are regular visitors in such a life. So they came in torrents, including Padmavibhushan, India's second highest civilian award. In an interview, however, Mr. Satish Gujral had said in his unique manner, in effect, that one did not stop at all milestones on the way. Truly, nothing stopped the surge of his creativity in so many domains. He painted ceaselessly. He sketched endlessly. He wrote relentlessly. He was all the time on terrific flights of imagination and thought and idea of unstoppable gush, having been supported by wife Kiran who proved to the best interpreter of whatever he wished to say. That comradeship empowered Mr. Satish Gujral in a rare manner. As we pay tribute to the man and his lifelong charm, we assert that his works will always lend his name an aura whose brilliance will be difficult to be matched. His was -- and will be -- the story of severe limitations can be utilised as stepping stones to greatness. That is Mr. Satish Gujral in immortal quintessence.