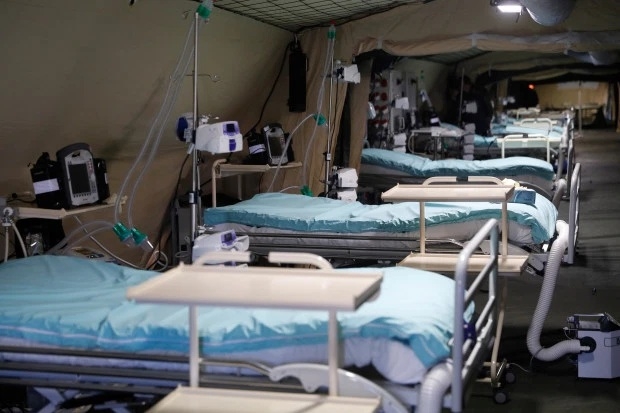 PARIS :
THE worldwide number of officially confirmed fatalities from the novel coronavirus rose to 35,000 on Monday, according to a tally compiled by AFP at 1100 GMT from official sources. More than 35,000 people have died worldwide from the coronavirus pandemic since it emerged late last year in China, most of them in Europe, according to an AFP tally at 1615 GMT Monday using official figures. In total, 35,905 people have died, including 26,076 in Europe. Italy has the most deaths with 11,591, following by Spain with 7,340 and China with 3,304.
More than 7,40,00 cases have been officially detected in 183 countries and territories, including at least 4,08,203 in Europe, almost 1,50,000 in the United States and Canada with 2,635 deaths and 106,609 cases in Asia with 3,827 deaths. Detected cases likely reflect only a fraction of the real number of infections as many countries are only testing the most serious cases. China -- excluding Hong Kong and Macau -- has to date declared 3,304 deaths and 81,470 cases, with 75,448 recoveries. It has recorded 31 new infections and four new deaths since Sunday. The other worst-hit countries are Iran with 2,757 deaths and 41,495 cases, and France with 2,606 deaths and 40,174 cases.
The United States has the highest number of infected people with 1,43,055 diagnosed cases, 2,514 deaths and 4,865 recoveries. Cases there have soared from 41,511 one week ago. Since 1900 GMT on Sunday, Angola announced its first death. Europe has listed 396,027 cases and 24,841 deaths to date, Asia 1,06,552 cases and 3,827 deaths, the Middle East 50,643 cases and 2,847 deaths, the US and Canada together have 1,49,298 cases with 2,577 deaths, Latin America and the Caribbean 14,910 cases with 348 deaths, Africa 4,786 cases with 150 deaths and Oceania 4,864 cases with 20 deaths. ISRAELI Prime Minister Benjamin Netanyahu's office said on Monday that he will enter quarantine after an aide on Knesset affairs tested positive for coronavirus.
Neyanyahu's office said the step was a precaution and is being taken even before the epidemiological investigation has been concluded, Haaretz newspaper reported. Moscow, with its more than 12 million people, went into lockdown on Monday while other parts of Russia moved to introduce similar steps to curb the coronavirus outbreak. Britain's Prince Charles came out of self-isolation on Monday, seven days after it was confirmed that he had tested positive for coronavirus, a Royal spokesperson said. The 71-year-old heir to the British throne had been self-isolating on the Queen's Balmoral estate in Scotland after he had been tested by the National Health Service (NHS) in Aberdeenshire last week.