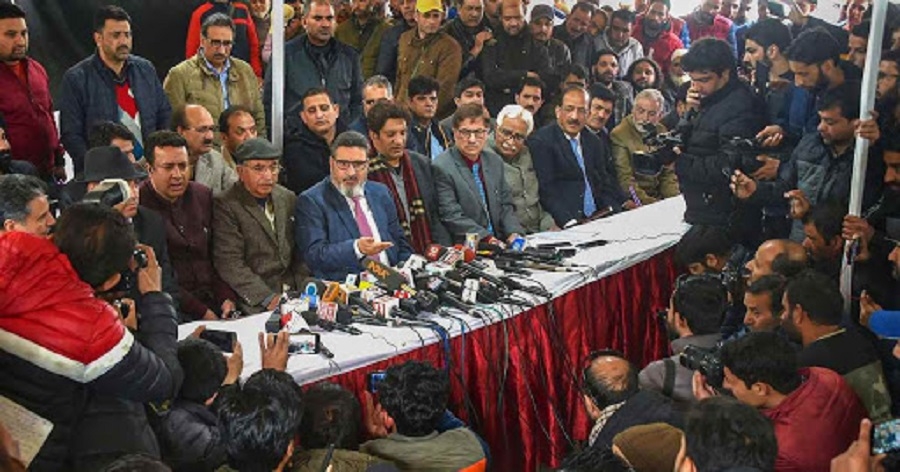 President of newly-launched Jammu and Kashmir Apni Party Altaf Bukhari addresses a press conference with other party members in Srinagar on Sunday. (PTI)
SRINAGAR :
FORMER PDP leader Altaf Bukhari on Sunday launched the Jammu and Kashmir Apni Party (JKAP) here as he vowed to work towards restoring J&K's statehood and ensure domicile rights of people in jobs and education, while saying demoting the State to a Union Territory was "unpleasant and bitter". The 60-year-old, who is a graduate in agriculture science, announced the formation of the JKAP at his residence and was flanked by former MLAs and senior leaders of political parties like the National Conference (NC), the PDP, the Congress and the BJP, besides some former Independent legislators.
He was elected president of the JKAP unanimously. Bukhari said the new party was an outfit "of the commoners, by the commoners and for the commoners". It is a bare fact that the Union Territory of Jammu and Kashmir has been passing through tough times since 1990, leading to an unprecedented scenario of death and destruction in the region, he said. "However, the developments which took place on August 5, 2019, brought some new questions and realities to the fore," Bukhari said, adding that in "an unknown and unimagined situation in the 70-year-long history of free India, a full-fledged state, enjoying an enviable position among its sister states, was demoted to a Union Territory".
On August 5 last year, the Centre withdrew Special Status of the erstwhile state of Jammu and Kashmir, and bifurcated it into Union Territories Ladakh and Jammu and Kashmir. The Union Territories came into existence on October 31 last year. "Though unpleasant and bitter, it is an undeniable reality that the developments which took place in August 2019, particularly the deprivation of statehood, has badly affected the self-esteem, pride and confidence of the people across Jammu and Kashmir," Bukhari said.