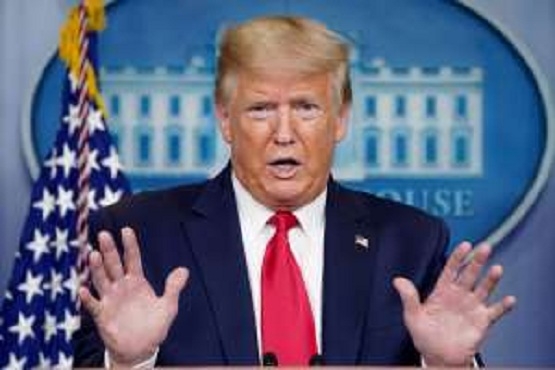 By Lalit K Jha
WASHINGTON,
United States President Donald Trump has fired a fresh salvo at the World Health Organisation, accusing its chief of siding with China and "politicising" the coronavirus pandemic while repeating his threat to freeze the UN agency's funding. Trump's allegation comes a day after the US President threatened to put a "very powerful" hold on US' funding to the World Health Organisation (WHO) and criticised it for having "missed the call" in its response to the coronavirus pandemic.
Trump slammed the Geneva-based global health agency for its early guidance aimed at countering the international spread of the coronavirus The President's fresh allegation comes after WHO Director-General Tedros Adhanom Ghebreyesus cautioned against politicisation of COVID-19 and said that such a move will only result in "many more body bags".
"If you want to be exploited and if you want to have many more body bags, then you [politicize the virus]. If you don't want many more body bags, then you refrain from politicising it," Ghebreyesus said on Wednesday.
India's help in the extraordinary times "will not be forgotten": Trump
WASHINGTON,
Apr 9 (PTI)
PRESIDENT Donald Trump has described Prime Minister Narendra Modi as "terrific" for allowing the export of the anti-malarial drug hydroxychloroquine to the US, seen as a possible cure for COVID-19, saying India's help in the extraordinary times "will not be forgotten". "I want to thank Prime Minister Modi of India for allowing us to have what we requested for the problem that arose and he was terrific. We will remember it," Trump told reporters at his daily White House news conference on coronavirus on Wednesday. HCQ is deemed as a possible cure for the deadly coronavirus. "We shall win this together," Modi said, responding to a tweet by President Trump.
"Fully agree with you President @realDonaldTrump. Times like these bring friends closer," he said, adding that the India-US partnership is "stronger than ever". "India shall do everything possible to help humanity's fight against COVID-19," the Prime Minster said. In a tweet hours earlier, US President praised Modi for his strong leadership and said that India's help during this crisis will not be forgotten. "Extraordinary times require even closer cooperation between friends. Thank you India and the Indian people for the decision on HCQ. Will not be forgotten!" he said.
"Thank you, Prime Minister for your strong leadership in helping not just India, but humanity, in this fight!" Trump said in his tweet that went viral and was re-tweeted more than 60,000 times and liked by over two lakh people. India, the largest producer of hydroxychloroquine, agreed to lift the ban on the export of the medicine to the US after Trump spoke to Modi on phone last week. Three Gujarat-based companies would export these tablets to the US, Gujarat Chief Minister Vijay Rupani said on Tuesday. By Wednesday night, more than 14,600 Americans lost their lives due to the coronavirus and over 4.3 lakhs have tested positive for the dreaded disease.