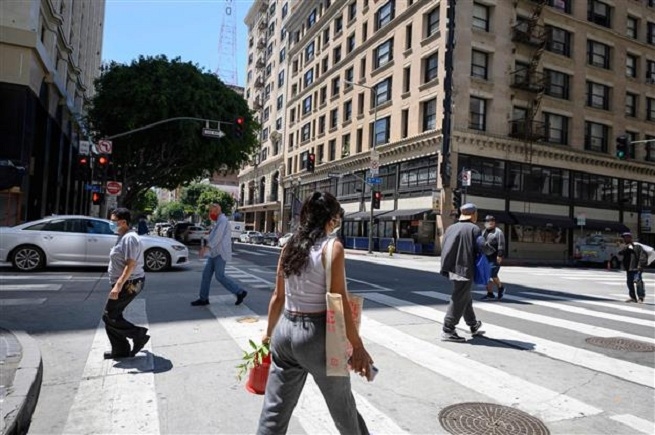 WASHINGTON :
SOCIAL distancing measures such as restrictions on public gatherings may have to remain in place intermittently for at least a couple of more years to contain the spread of COVID-19 in the absence of vaccine against the virus or dramatic increase in critical care capacities, researchers from Harvard T.H. Chan School of Public Health have warned. These tough measures which have already pushed the world economy into recession may be necessary because the outbreak of SARS-CoV-2, the virus that causes COVID-19, may occur again in winter, according to the projections made by the researchers who used data from the US for creating a model of transmission.
The study comes at a time when US President Donald Trump has said that America has "passed the peak" of new COVID-19 cases and predicted some States would reopen this month, even as the country currently accounted for the highest number of coronavirus deaths and infections in the world. The US has reported a total of 639,628 coronavirus cases, while the death toll stands at 30,925, according to the latest update by the Washington-based Johns Hopkins University. According to the study published in the journal Science, resurgence in contagion could be possible as late as 2024. For the study, the researchers examined a range of likely SARS-CoV-2 transmission scenarios through 2025 and assessed non-pharmaceutical interventions that could mitigate the intensity of the current outbreak.
They used what is known about the pandemic and different coronaviruses to create different transmission scenarios. "We projected that recurrent wintertime outbreaks of SARS-CoV-2 will probably occur after the initial, most severe pandemic wave. Absent other interventions, a key metric for the success of social distancing is whether critical care capacities are exceeded," said the study. "To avoid this, prolonged or intermittent social distancing may be necessary into 2022. Additional interventions, including expanded critical care capacity and an effective therapeutic, would improve the success of intermittent distancing and hasten the acquisition of herd immunity," it added. The researchers cautioned that their model will have to be tailored to local conditions and updated as more accurate data become available. According to data from Johns Hopkins University, COVID-19 has so far infected over 2 million people and led to the deaths of over 137,000 in the world.
US death toll crosses 27,900
NEW YORK,
NINE States in the US, which has the world's maximum coronavirus caseload, have emerged as outliers with less than 1,000 cases and less than 30 cases per day at a time when the country's death toll soared beyond 27,900 and Government relief checks began arriving in American's bank accounts as the economic damage piled up. s Predictive models from the University of Washington, used by the White House, are projecting a peak death toll of more than 68,000 by August 2020 assuming full social distancing in place. Laying out the latest data, White House coronavirus co-ordinator Dr. Deborah Birx said some states like California, Washington State and Oregon "never really had a peak". Birx credited the blunted infection curves of these areas to strong and early mitigation efforts.
Meanwhile, hospitalisations and intubations from the outbreak are levelling off in New York, the epicenter of the US outbreak. On Tuesday, New York recorded 752 deaths sending the state total to more than 11,000 in just over a month. Rhode Island and Providence, sandwiched between what Birx calls "two incredible hotspots", are becoming new areas of concern.
Birx reminded the American people again about the highly contagious nature of the COVID19 virus and asked them to shun social gatherings. "To all of you that are out there that would like to join together and just have that dinner party for 20, don't do it yet", she urged. At the same briefing, US Agriculture Secretary Sonny Purdue assured Americans that there is "plenty of food" for everyone in the country.
"I want to be clear, the bare store shelves that you may see in some cities in the country are a demand issue, not a supply issue", he said. US President Donald Trump is keen to open up the economy as soon as possible and Governors who disagree with Trump's messaging are banding together to draft their own plans. Health experts around the world are warning more loudly than ever that halting social-distancing measures just when the infection curve is being blunted could result in a deadly second wave of the COVID-19 disease. The trinity of testing at scale, isolation and contact tracing are essential for the economy to get back to some kind of functional place, according to Dr. Anthony Fauci, America's most respected infectious diseases doctor on the White House task force. The coronavirus pandemic began in China in 2019 and has killed nearly 127,000 people till date.