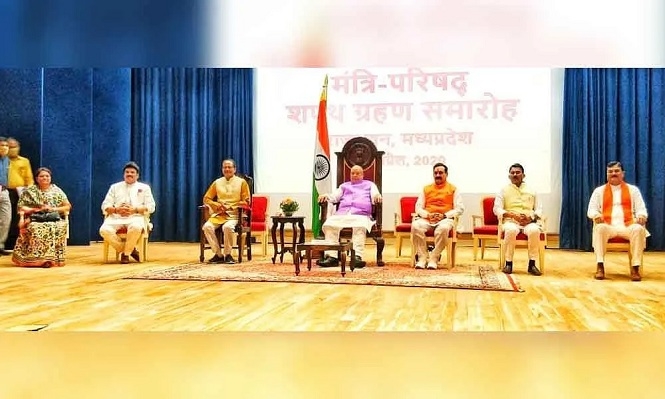 Staff Reporter
Bhopal,
Chief Minister Shivraj Singh Chouhan went ahead to form a small-sized Cabinet with just five ministers. The five Cabinet members took oath of office and secrecy in a simple ceremony held at Raj Bhawan on Tuesday afternoon. The distribution of portfolioes among ministers was yet to take place till the time this report was filed. Governor Lalji Tandon administered oath to five Cabinet ministers in presence of Chief Minister Shivraj Singh Chouhan, former Union minister Uma Bharti, State BJP President V D Sharma and MLAs. Chief Secretary Iqbal Singh Bains, DGP Vivek Johari and other officers were also present.
Those included in Cabinet are Dr Narottam Mishra, Tulsiram Silawat, Kamal Patel, Govind Singh Rajput and Meena Singh. In this five-member Cabinet, Govind Singh Rajput and Tulsiram Silawat come from Jyotiraditya Scindia camp. Caste-wise and region-wise, THE CM tried to strike a fine balance as Dr Narottam represents Brahmin community, Tulsiram Silawat comes from Scheduled Caste, Govind Singh Rajput represents Thakur community and Meena Singh comes from Tribal community. Kamal Patel is an OBC leader. Since taking oath on March 23, CM Shivraj Singh Chouhan was single-handedly running the Government without Cabinet almost for a month. This also brought him under fire of criticism from Congress which said that the CM was unable to handle all affairs of Government and with no health minister in charge, corona situation in State was becoming uncontrollable. Even the BJP organisation also felt the need of a Cabinet.
It is learnt that the CM had a telephonic conversation with party leaders sitting in Delhi. He also spoke to State leadership of party and Jyotiraditya Scindia as well. After several rounds of telephonic conversation, the CM came out with the formula of forming a five-member Cabinet with two Jyotiraditya Scindia supporters. However, the small-sized of Cabinet also surprised many in the BJP but the CM is learnt to have conveyed the message to party leadership that once the things become normal in State after the lockdown was lifted and corona was controlled then he would go for Cabinet expansion to adjust the other aspirants. Notably, in the 230-member Assembly, Government can have cabinet strength up to 35 ministers, including the CM. The names of stalwart BJP leaders who were left out in formation of Cabinet are former Gopal Bhargava, Bhupendra Singh, Rajendra Shukla etc. Earlier, it was being speculated that at least 10-member Cabinet will be formed but later it was decided to keep size of Cabinet small till formation of full-fledged Cabinet.